Wild Atlantic Salmon 1 1/2 lb
Couscous 2/3 cup
Grapefruit Juice 1/2 cup
Lemon 1
Zucchini 2
Fresh Ginger 1
Fresh Garden Thyme 1/2 bunch
Red Chili 1/2
Garlic Clove 6 cloves
Black Pepper 2 pinches
Kosher Salt 3 1/2 tsp
Rice Wine Vinegar 1 1/2 Tbsp
Hoisin Sauce 2 Tbsp
Tomato Ketchup 2 Tbsp
Low Sodium Soy Sauce 1/2 cup
Light Brown Sugar 2 Tbsp
Water 1 cup
Olive Oil 1/3 cup
Flavor Creation

Prepare ingredients. Add all ingredients to a saucepan. Simmer over low heat until slightly thickened, about 10 minutes. Strain.

1/2 cup Grapefruit Juice
1 1/2 Tbsp Rice Wine Vinegar
2 cloves Garlic Clove
2 Tbsp Light Brown Sugar
1/2 cup Low Sodium Soy Sauce
2 Tbsp Hoisin Sauce
1, grated Fresh Ginger
1 Tbsp Olive Oil
1/2 Red Chili
2 Tbsp Tomato Ketchup

Preheat

Preheat the oven to 425F. Line two sheet pans with foil.

Connect Oven

Boil Water

Combine all ingredients in a large pot & bring to boil.

1 clove, smashed & peeled Garlic Clove
1/2 tsp Kosher Salt
1/2 bunch Fresh Garden Thyme
1 cup Water

Season & Bake Salmon

Season salmon. Bake for 10 - 15 minutes, let rest for 5 minutes.

TIP: Why rest? Because proteins continue to cook once removed from the oven!

2 tsp Olive Oil
1 pinch Black Pepper
1 tsp Kosher Salt
1 1/2 lb Wild Atlantic Salmon

Cook Zucchini

Toss zucchini with olive oil, thyme, & garlic. Season with salt & pepper. Bake for 12 minutes.

1/2 tsp Kosher Salt
1 sprig, leaves removed Fresh Garden Thyme
1 Tbsp Olive Oil
1 pinch Black Pepper
2, 1/4" circles Zucchini
3 cloves, minced Garlic Clove

Couscous Creation

Add couscous to boiling water & stir. Turn off heat & cover. Let steam for 5 minutes. Remove thyme & garlic. Season with olive oil & lemon zest. Fluff with a fork.

2/3 cup Couscous
1, zested Lemon
1 Tbsp Olive Oil

Serve & Enjoy!

Pair with good music.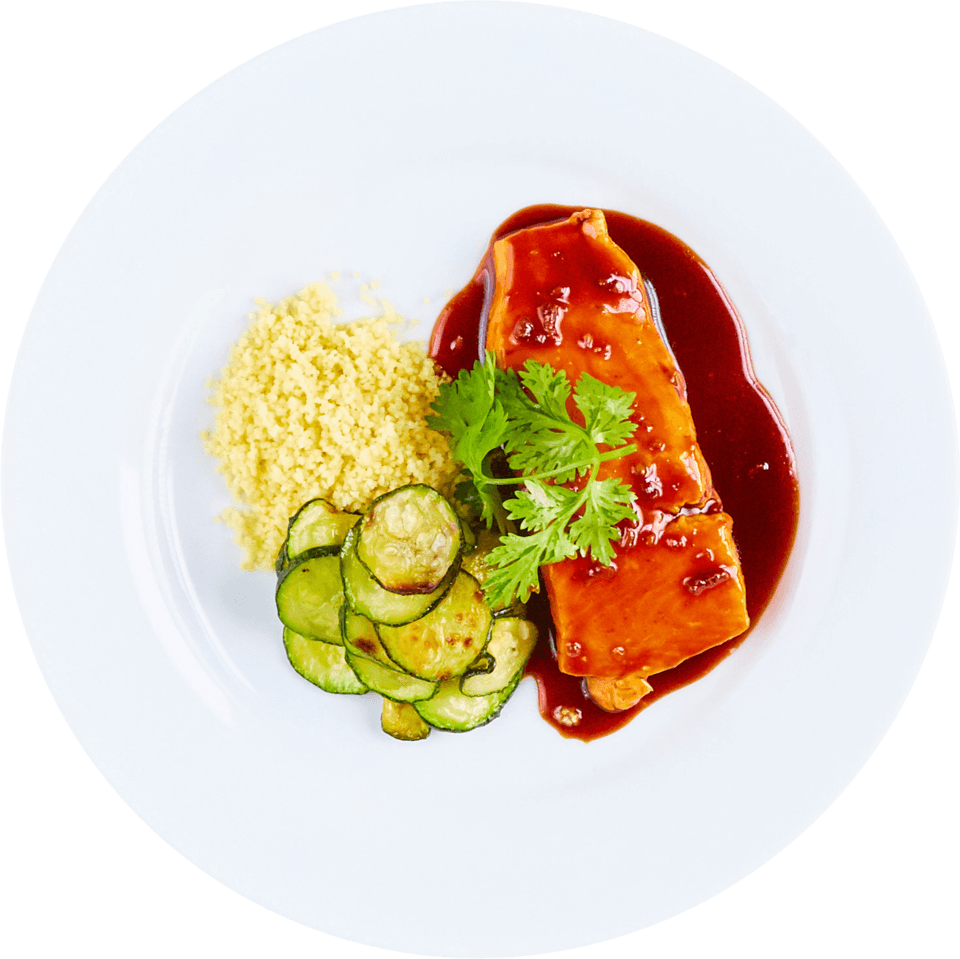 Amount per
serving
Daily value percentage
Calories
610 kcal
Total Fat
26.0 g
33%
Total Saturated Fat
4.0 g
21%
Unsaturated Fat
22 g
Low Cholesterol
95 mg
31%
Sodium
3360 mg
150%
Total Carbohydrate
46 g
17%
Fiber Total Dietary
4 g
13%
Sugars Total
14 g
Excellent Source: Protein
42 g
85%
Good Source: Vitamin C
42 mg
45%
Calcium Ca
88 mg
6%
Iron Fe
3.5 mg
20%
Load More
By Innit Culinary Team