Ancho Pepper 1
Fresh Thyme 6 sprigs
Fresh Roma Tomatoes 3
Serrano Pepper 1
Garlic Cloves 2
White Onion 1
Broccoli 2 heads
Sweet Potatoes 3
Orange 1
Chipotle Pepper 1
Vegetable Stock 1 cup
White Sesame Seeds 2 Tbsp
Extra Firm Tofu 2 packages
Mexican Chocolate 1/2 block
Seedless Golden Raisins 2 Tbsp
Kosher Salt 1 Tbsp
Cinnamon Stick 1/2
Dried Oregano 1/2 Tbsp
Red Pepper Flakes 1/2 tsp
Light Brown Sugar 1/4 cup
Dry Roasted Unsalted Almonds 2 Tbsp
New Mexico Pepper 1
Olive Oil 3 1/2 Tbsp
Black Pepper 1 3/4 tsp
Flavor Creation

Add all ingredients to a dry skillet, stirring & tossing frequently, over medium heat until toasted, about 2 minutes.

1, hand torn Chipotle Pepper
2 Tbsp Dry Roasted Unsalted Almonds
1/2 Tbsp Black Pepper
2 Tbsp White Sesame Seeds
1, hand torn Ancho Pepper
1, hand torn New Mexico Pepper

Preheat

Preheat the oven to 425F. Line two sheet pans with foil.

Connect Oven

Flavor Creation Cont.

Saute tomato, pepper, onion, & garlic in olive oil until lightly browned, about 4 minutes. Add in toasted chili mixture & golden raisins.

3, quartered Fresh Roma Tomatoes
2 Tbsp Olive Oil
1, diced Serrano Pepper
1, diced White Onion
2, minced Garlic Cloves
2 Tbsp Seedless Golden Raisins

Flavor Creation Cont.

Add ingredients to sauce mixture & stir. Simmer for 10 - 15 minutes. Transfer mole mixture to blender & blend/pulse until smooth. Season to taste.

1/2 tsp, to taste Kosher Salt
1 cup Vegetable Stock
2 sprigs Fresh Thyme
1/2 Tbsp Dried Oregano
1/2 block, chopped Mexican Chocolate
1/2 Cinnamon Stick

Bake Tofu

Drain tofu and pat dry. Season. Bake for 22 - 28 minutes.

1 pinch Black Pepper
2 packages, halved Extra Firm Tofu
1 1/2 Tbsp Olive Oil
1 tsp Kosher Salt

Bake Sweet Potatoes

Add sweet potatoes to a large bowl & drizzle with olive oil, toss to evenly coat. Add remaining ingredients and toss again. Arrange sweet potato slices in even layer. Bake for 20 - 30 minutes.

1, juiced Orange
3, sliced into circles Sweet Potatoes
1/4 cup Light Brown Sugar
4 sprigs Fresh Thyme
enough to coat Olive Oil
1 tsp Kosher Salt

Bake Broccoli

Drizzle broccoli with olive oil. Season. Bake for 18 minutes.

2 heads, sliced Broccoli
1/2 tsp Red Pepper Flakes
to coat Olive Oil
1/2 tsp Kosher Salt
1 pinch Black Pepper

Serve & Enjoy!

Pair with good music.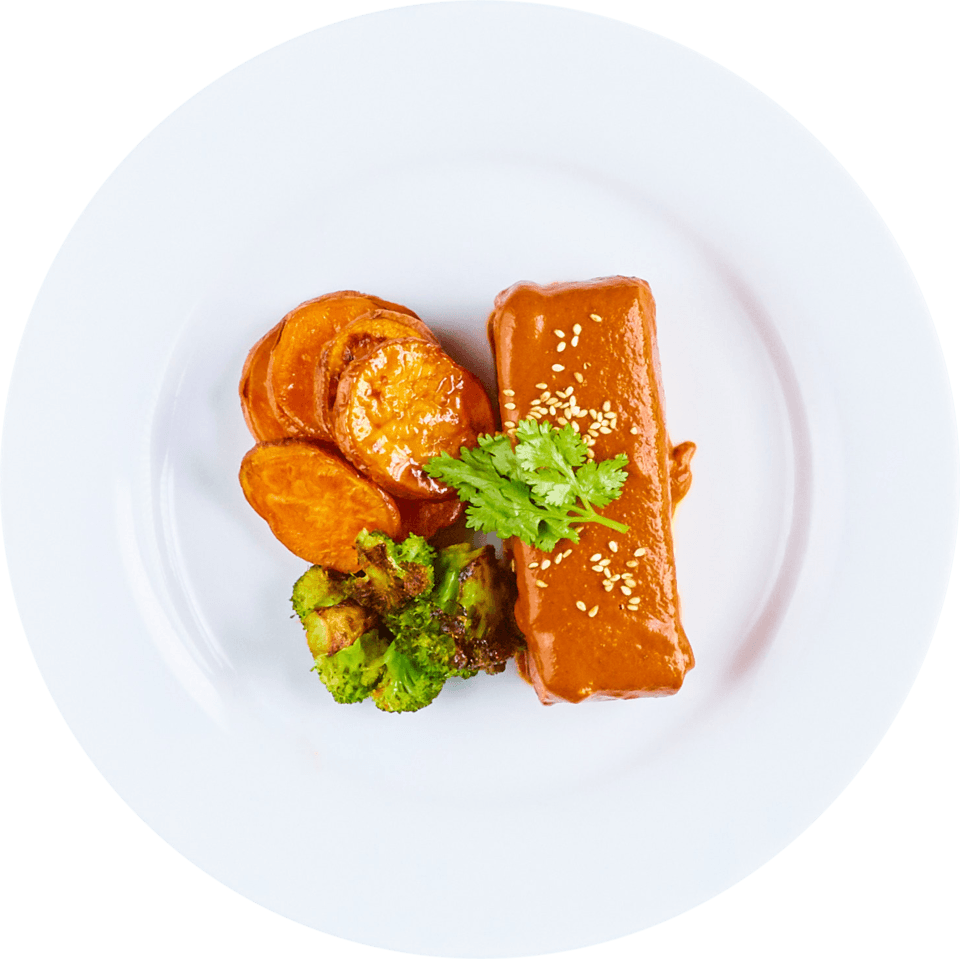 Amount per
serving
Daily value percentage
Calories
660 kcal
Total Fat
31 g
40%
Total Saturated Fat
7 g
34%
Unsaturated Fat
24 g
Low Cholesterol
< 5 mg
1%
Sodium
1950 mg
80%
Total Carbohydrate
71 g
26%
Good Source: Fiber
14 g
51%
Sugars Total
35 g
Good Source: Protein
31 g
62%
Excellent Source: Vitamin C
149 mg
170%
Load More
By Innit Culinary Team