Pork Back Ribs 2 1/2 lb
Honey 1/4 cup
Light Brown Sugar 1/4 cup
Fresh Thyme 5 sprigs
Sweet Potatoes 3
Fresh Shallot 1
Cauliflower 1 head
Orange 1
Garlic Cloves 2
Kosher Salt 1 1/2 Tbsp
Dijon Mustard 3 1/2 Tbsp
Plain Greek Yogurt 1/4 cup
Black Pepper 2 pinches
Olive Oil 9/32 cup
Preheat

Preheat the oven to 425F. Line two sheet pans with foil.

Connect Oven

Bake Ribs

Season ribs on all sides. Bake for 45 minutes, bone side up.

1/2 Tbsp Kosher Salt
2 Tbsp Olive Oil
2 1/2 lb Pork Back Ribs
1 pinch Black Pepper

Bake Sweet Potatoes

Add sweet potatoes to a large bowl & drizzle with olive oil, toss to evenly coat. Add remaining ingredients and toss again. Arrange sweet potato slices in even layer. Bake for 20 - 30 minutes.

1, juiced Orange
3, sliced into circles Sweet Potatoes
1/4 cup Light Brown Sugar
4 sprigs Fresh Thyme
tsp, enough to coat Olive Oil
1 tsp Kosher Salt

Cook Cauliflower

Toss or coat cauliflower & garlic with olive oil. Season with salt. Bake for 25 minutes.

1 head, small florets Cauliflower
2 Tbsp Olive Oil
1 tsp Kosher Salt
2, sliced Garlic Cloves

Flavor Creation

Prepare ingredients. Heat pan over medium-high; add olive oil, shallot, & thyme; saute for 3 minutes. Add honey & mustard, cook for 2 minutes. Remove from heat & transfer to fridge to cool, about 5 minutes

1/2 Tbsp Olive Oil
1/4 cup Honey
3 1/2 Tbsp Dijon Mustard
1, minced Fresh Shallot
1 sprig Fresh Thyme

Flip Ribs

Remove sheet pan from oven. Flip ribs bone-side down and continue to cook for 10 minutes. Remove from oven and let rest for 5 minutes.

Flavor Creation Cont.

Remove from fridge. Add ingredients. Whisk to combine. Remove thyme.

1 pinch Black Pepper
1/4 cup Plain Greek Yogurt
1 tsp Kosher Salt
2 Tbsp Lemon Juice

Serve & Enjoy!

Pair with good music.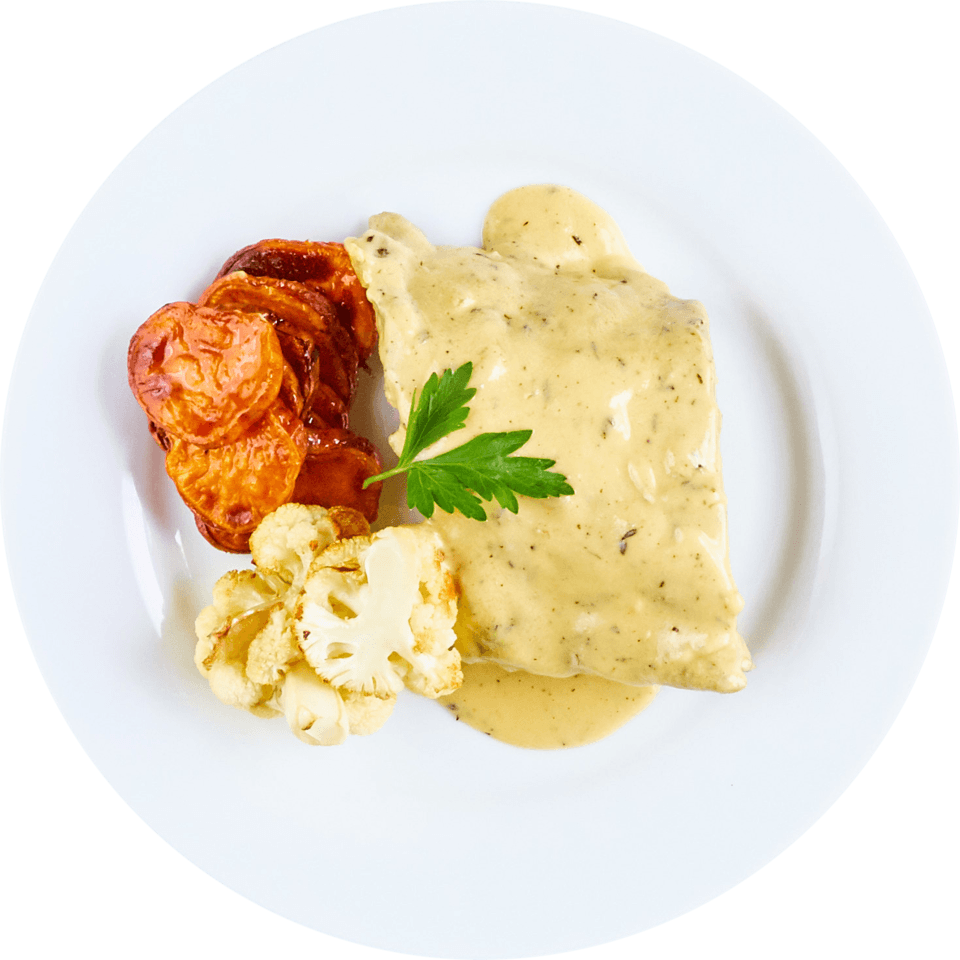 Amount per
serving
Daily value percentage
Calories
820 kcal
Total Fat
44 g
56%
Total Saturated Fat
13 g
65%
Unsaturated Fat
31 g
Cholesterol
125 mg
42%
Sodium
3030 mg
130%
Total Carbohydrate
66 g
24%
Good Source: Fiber
8 g
27%
Sugars Total
42 g
Excellent Source: Protein
40 g
80%
Excellent Source: Vitamin C
95 mg
110%
Calcium Ca
183 mg
15%
Load More
By Innit Culinary Team