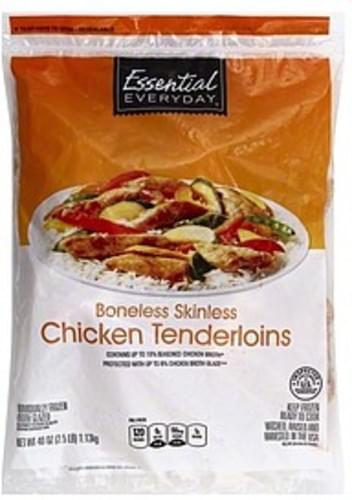 Essential Everyday  Tenderloins, Boneless, Skinless Chicken 
40 oz
Health Tip
Poultry can be a great source of lean protein, but watch out for chicken that's been marinaded or breaded, they're usually loaded with extra calories and salt. Get hints and tips on including healthy protein choices in your diet when you join the ShopWell community. It's free!
Seasoned Chicken Broth Ingredients: Chicken Broth, Salt, Sodium Phosphate). Broth Glaze Ingredient: Chicken Broth.
Fat

7 %

Carbs

3 %

Protein

90 %
% Daily Value **
per serving 2 Piece (40 oz)
Know Your Food
Innit helps you quickly find independent nutrition information backed by science and nutritionists. Innit does not manufacture this product.