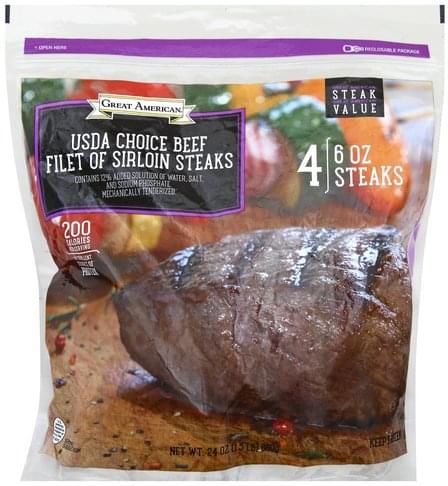 Great American  USDA Choice Beef, Filet of Sirloin Steaks 
4 ea
Health Tip
Beef can be a great source of lean protein if you pick the right cut, and a fat fest if you're not careful. Get hints and tips on including healthy protein choices in your diet when you join the ShopWell community. It's free!
Beef Filet of Sirloin Steak

,

Water

,

Salt

,

Sodium Phosphate.
Fat

30 %

Carbs

0 %

Protein

70 %
% Daily Value **
per serving 170 Gram (4 ea)
13 %
Saturated Fat
2.50 g
Know Your Food
Innit helps you quickly find independent nutrition information backed by science and nutritionists. Innit does not manufacture this product.