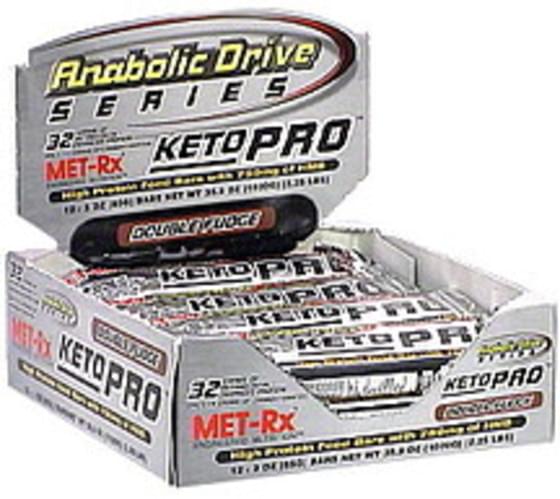 MET Rx  Double Fudge High Protein Food Bar 
35.9 oz
Benefits:
Common Allergens:
Egg

,

Milk

,

Animal By Products

,

Lactose
Protein Blend [Metamyosyn (Unique Blend of Milk Protein Isolates, Caseinate, Whey Protein Concentrate, Calcium-B-Hydroxy-B-Methylbutyrate Monohydrate, Egg White, Glutamine)

,

Hydrolyzed Protein

,

Calcium Caseinate

,

Whey Protein Isolate]

,

Coating (Maltitol, Salatrim [a Reduced Calorie Fat], cocoa, Sodium Caseinate, Lecithin, Artificial Flavor, Acesulfame Potassium)

,

Glycerine

,

Medium Chain Triglycerides

,

Polydextrose

,

Cocoa

,

Vitamins and Minerals (Dipotassium Phosphate, D-Alpha Tocopheryl Acetate, Dicalcium Phosphate, Magnesium Oxide, ascorbic acid, Ferrous Fumarate, Niacinamide, Zinc Oxide, Calcium Pantothenate, Copper Gluconate, Pyridoxine Hydrochloride, Vitamin A Palmitate, Riboflavin, Thiamine Mononitrate, Folic acid, Biotin, Potassium Iodide, Vitamin D3, Cobalamin Concentrate [Vitamin B12]))

,

Natural Flavors

,

Potassium Sorbate

,

Sucralose.
Health Tip
Snack bars are great, when they've got the right balance of protein, carbs and fiber. Not so great when they're full of sugar and fat. ShopWell keeps an eye on the added sugars. Bonus, you'll also get healthy snack tips! Download free!
Fat

28 %

Carbs

23 %

Protein

49 %
% Daily Value **
(35.9 oz)
13 %
Saturated Fat
2.50 g
Know Your Food
Innit helps you quickly find independent nutrition information backed by science and nutritionists. Innit does not manufacture this product.