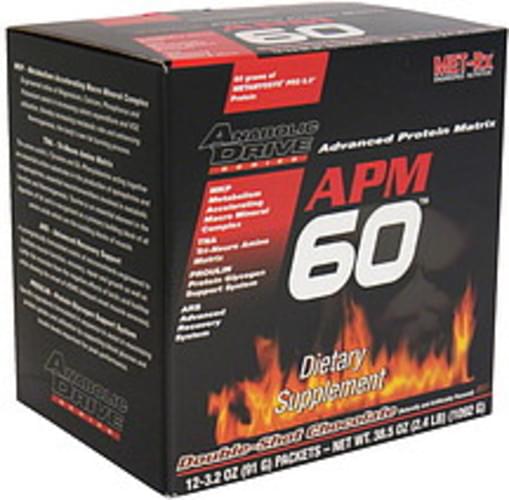 MET Rx  Double-Shot Chocolate Advanced Protein Matrix 
12 ea
Benefits:
Common Allergens:
Gluten

,

Egg

,

Milk

,

Animal By Products

,

Lactose

,

Corn
Other Ingredients: Metamyosyn Pro 6.0 Protein Blend (Milk Protein Concentrate, Calcium Sodium Caseinate, Whey Protein Concentrate, Dried Egg Albumen, Whey Protein Isolate, Bovine Lactoferrin)

,

Vitamins and Minerals (Calcium Lactate, Tricalcium Phosphate, Trimagnesium Phosphate, Dicalcium Phosphate, Potassium Chloride, Potassium Citrate, Magnesium Oxide, Ascorbic Acid, Dl-Alpha-Tocopheryl Acetate, Ferrous Fumarate, Niacinamide, Retinyl Palmitate, Zinc Oxide, Calcium D-Pantothenate, Manganese Sulfate, Cupric Sulfate, Beta-Carotene, Pyridoxine Hydrochloride, Riboflavin, Thiamin Hydrochloride, Folic Acid, Biotin, Sodium Molybdate, Sodium Selenite, Potassium Iodide, Phytonadione, Cholecalciferol, Cyanocobalamin)

,

Cocoa (Processed with Alkali)

,

Natural and Artificial Flavors

,

Cocoa

,

Medium Chain Triglycerides

,

Sodium Carboxymethylcellulose

,

Xanthan Gum

,

Maltodextrin

,

Sucralose

,

Acesulfame Potassium. ARS Proprietary Blend: L-Glutamine

,

Potassium Bicarbonate

,

Monosodium Orthophosphate

,

Sodium Citrate Dihydrate

,

L-Carnosine

,

Trans-Ferulic Acid. TNA Proprietary Blend: Dl-Phenylalanine

,

L-Tyrosine

,

Taurine. Proulin Proprietary Blend: Myo-Inositol

,

Alpha-Lipoic Acid

,

Vanadium (as Vanadyl Sulfate) (1 mg)

,

Chromium Picolinate
Health Tip
Most energy drinks have the equivalent of 7 teaspoons of sugar per can (that's almost as much as soda!). This sugary drink is a sugar beast! What's really in your energy drink? Download ShopWell and find healthier alternatives with a fraction of the sugar.
Fat

12 %

Carbs

10 %

Protein

78 %
13 %
Saturated Fat
2.50 g
Know Your Food
Innit helps you quickly find independent nutrition information backed by science and nutritionists. Innit does not manufacture this product.