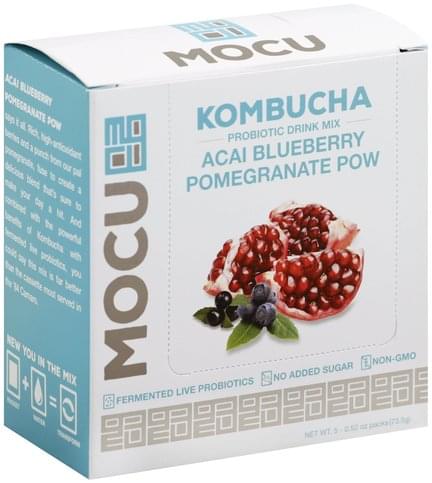 Common Allergens:
Gluten

,

Monosaccharide

,

Corn

,

Polyol
Health Tip
Watch out for the sugar! Powdered drinks can be a great way to liven up water and help you stay hydrated, but they can also be a sneaky source of added sugars. Download ShopWell and we'll recommend healthy drinks to keep you hyrated.
8 Calories
100 %

Carbs

0 %

Fat

0 %

Protein
384 %
Vitamin C
230.40 mg
Common Allergens:
Gluten
Monosaccharide
Corn
Polyol
Ingredients:
Fruit Polyphenol Powder Blend: Blueberry Powder, Acai Fruit Extract, Apple Extract, Pomegranate Extract, Mocu Whole Food Multivitamin Powder Blend: Organic Spinach Leaf, Organic Parsley, Organic Curry Leaf, Organic Basil, Organic Camellia Sinensis, Organic Moringa Oleifera, Organic Sesbania Grandiflora, Organic Shiitake Mushroom, Organic Bixa Orellana, Organic Lemon Fruit, Organic Indian Gooseberry, Acid Blend: Citric Acid, Lactic Acid, Malic Acid, Tartaric Acid, Gluconic Acid as Magnesium Gluconate)

,

Absorbic Acid

,

Probiotic Blend 10 Billion CFUs: Lactobacillus Casei

,

Lactobacillus Plantarum

,

Lactobacillus Acidophilus

,

Bifidobacterium Breve. Other Ingredients: Organic Erythritol

,

Kombucha Powder

,

Vinegar Solids

,

Tea Solids

,

Natural Flavors

,

Stevia Leaf Extract.
Scan As You Shop
Take Shopwell with you while you shop. Use the app to scan barcode to see thehow well products match your Food Profile. Nutrition personalized to you.