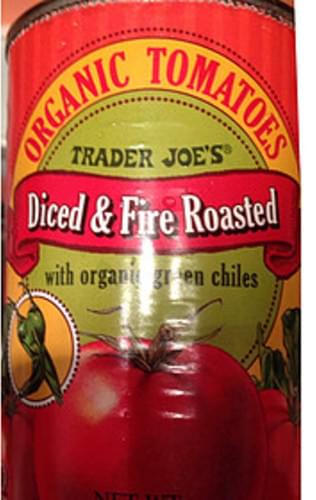 Trader Joe's  Diced & Fire Roasted Organic Tomatoes 
120 g
Organic fire roasted tomatoes

,

organic tomato juice

,

organic green chile peppers

,

sea salt

,

citric acid

,

organic vinegar (to preserve natural pepper color)

,

calcium chloride.
Health Tip
Only 1 out of every 10 Americans eats enough fruits and vegetables each day. Are you that 1 in 10? Aim to eat 3-5 servings of veggies every day (frozen counts!). Get hints and tips on adding more veggies to your diet when you join the ShopWell community. It's free!
Fat

0 %

Carbs

83 %

Protein

17 %
Know Your Food
Innit helps you quickly find independent nutrition information backed by science and nutritionists. Innit does not manufacture this product.