Boneless Skinless Chicken Breasts 4
Bacon 1
Red Pepper Flakes 1/2 tsp
Dried Mustard Powder 1/2 Tbsp
Ground Cumin 1/2 tsp
Paprika 1/2 tsp
Salt 3 1/4 tsp
Black Pepper 4 pinches
Yellow Onion 1/4
Broccoli 2 heads
Anya Potato 680 g
Fresh Thyme 1/2 bunch
Garlic Clove 1
Olive Oil 3 1/2 Tbsp
Tomato Ketchup 240 ml
White Vinegar 1 Tbsp
Black Treacle 2 Tbsp
Light Brown Sugar 2 Tbsp
Start BBQ Sauce

Prepare ingredients. Wrap bacon slice tightly around thyme. Add olive oil to medium saucepan over medium heat. Add bacon-wrapped thyme, cook for 3 - 4 minutes. Add onion & garlic, continue to cook slowly for 5 minutes.

1/2 bunch Fresh Thyme
1/4 Yellow Onion
1, smashed Garlic Clove
1 Bacon
1 Tbsp Olive Oil

BBQ Sauce Cont.

Add remaining ingredients to saucepan with bacon. Reduce heat to low; cook, stirring occasionally, for 10-15 minutes. Strain sauce.

240 ml Tomato Ketchup
2 Tbsp Black Treacle
1/4 tsp Salt
1/2 tsp Paprika
1/2 Tbsp Dried Mustard Powder
1 Tbsp White Vinegar
2 Tbsp Light Brown Sugar
1/2 tsp Ground Cumin
1 pinch Black Pepper

Cook Chicken Breast

Season chicken. Cook for 22 - 28 minutes, let rest for 5 minutes.

TIP: Why rest? Because proteins continue to cook once removed from the oven!

4, 8oz breasts Boneless Skinless Chicken Breasts
1 pinch Black Pepper
1 Tbsp Olive Oil
1/2 Tbsp Salt

Cook Potatoes

Season potatoes on prepared baking sheet. Cook for 25 minutes, cut side down.

1 pinch Black Pepper
1 1/2 Tbsp Olive Oil
1 tsp Salt
680 g, halved Anya Potato

Cook Broccoli

Drizzle broccoli with olive oil. Season. Cook for 18 minutes.

2 heads, large florets Broccoli
1/2 tsp Red Pepper Flakes
tsp, to coat Olive Oil
1/2 tsp Salt
1 pinch Black Pepper

Serve & Enjoy!

Pair with good music.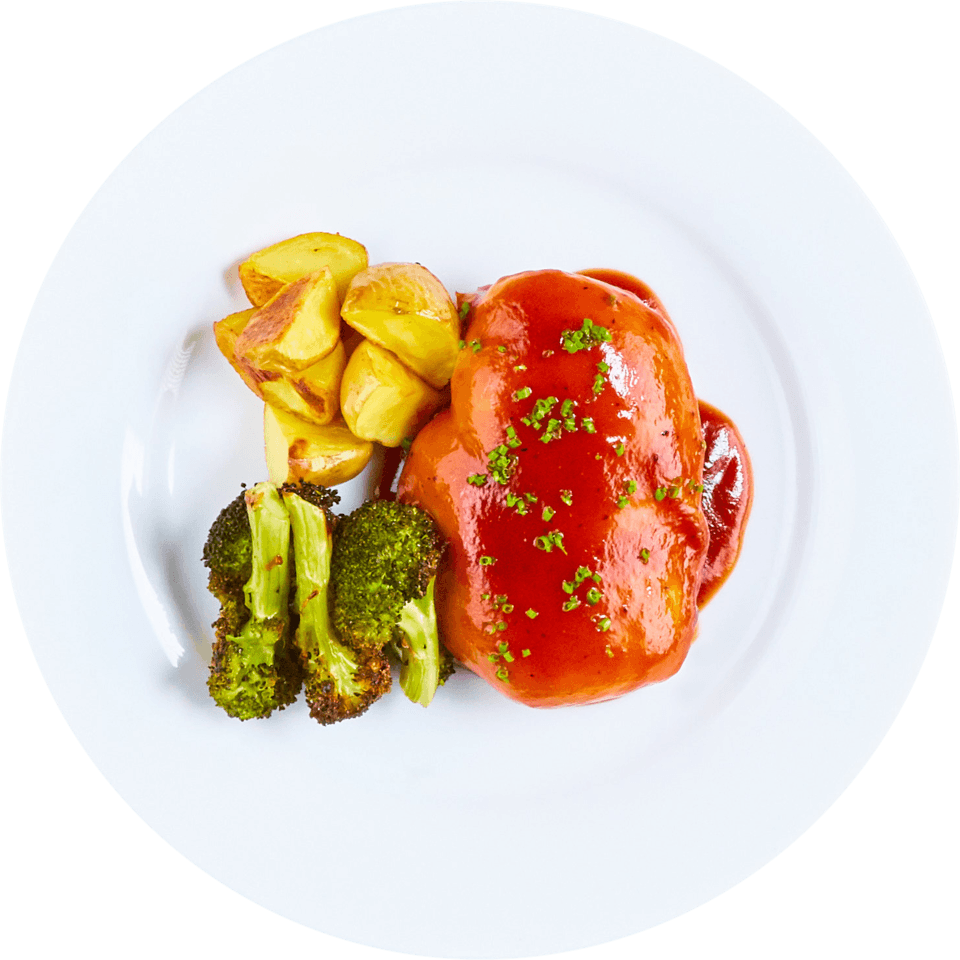 Amount per
serving
Daily value percentage
Calories
660 kcal
Total Fat
16 g
20%
Total Saturated Fat
3 g
15%
Unsaturated Fat
13 g
Cholesterol
170 mg
56%
Sodium
2680 mg
120%
Total Carbohydrate
61 g
22%
Fiber Total Dietary
5 g
17%
Sugars Total
31 g
Protein
58 g
115%
Vitamin C
68 mg
80%
Calcium Ca
102 mg
8%
Load More
By Innit Culinary Team