Bacon 1
Baby Back Rib 1.1 kg
Red Pepper Flakes 1/2 tsp
Dried Mustard Powder 1/2 Tbsp
Ground Cumin 1/2 tsp
Paprika 1/2 tsp
Salt 3 1/4 tsp
Black Pepper 3 pinches
Yellow Onion 1/4
Broccoli 2 heads
Sweet Potatoes 3
Orange 1
Fresh Thyme 2/3 bunch
Garlic Clove 1
Olive Oil 3 Tbsp
Tomato Ketchup 240 ml
White Vinegar 1 Tbsp
Black Treacle 2 Tbsp
Light Brown Sugar 78 g
Cook Ribs

Season ribs on all sides. Cook for 45 minutes, bone side up.

1/2 Tbsp Salt
2 Tbsp Olive Oil
1.1 kg Baby Back Rib
1 pinch Black Pepper

Start BBQ Sauce

Prepare ingredients. Wrap bacon slice tightly around thyme. Add olive oil to medium saucepan over medium heat. Add bacon-wrapped thyme, cook for 3 - 4 minutes. Add onion & garlic, continue to cook slowly for 5 minutes.

1/2 bunch Fresh Thyme
1/4 Yellow Onion
1, smashed Garlic Clove
1 Bacon
1 Tbsp Olive Oil

BBQ Sauce Cont.

Add remaining ingredients to saucepan with bacon. Reduce heat to low; cook, stirring occasionally, for 10-15 minutes. Strain sauce.

240 ml Tomato Ketchup
2 Tbsp Black Treacle
1/4 tsp Salt
1/2 tsp Paprika
1/2 Tbsp Dried Mustard Powder
1 Tbsp White Vinegar
2 Tbsp Light Brown Sugar
1/2 tsp Ground Cumin
1 pinch Black Pepper

Cook Sweet Potatoes

Add sweet potatoes to a large bowl & drizzle with olive oil, toss to evenly coat. Add remaining ingredients and toss again. Arrange sweet potato slices in even layer. Cook for 20 - 30 minutes.

1, juiced Orange
3, sliced into circles Sweet Potatoes
50 g Light Brown Sugar
4 sprigs Fresh Thyme
tsp, enough to coat Olive Oil
1 tsp Salt

Cook Broccoli

Drizzle broccoli with olive oil. Season. Cook for 18 minutes.

2 heads, large florets Broccoli
1/2 tsp Red Pepper Flakes
tsp, to coat Olive Oil
1/2 tsp Salt
1 pinch Black Pepper

Flip Ribs

Remove baking tray from oven. Flip ribs bone-side down and continue to cook for 10 minutes. Remove from oven and let rest for 5 minutes.

Serve & Enjoy!

Pair with good music.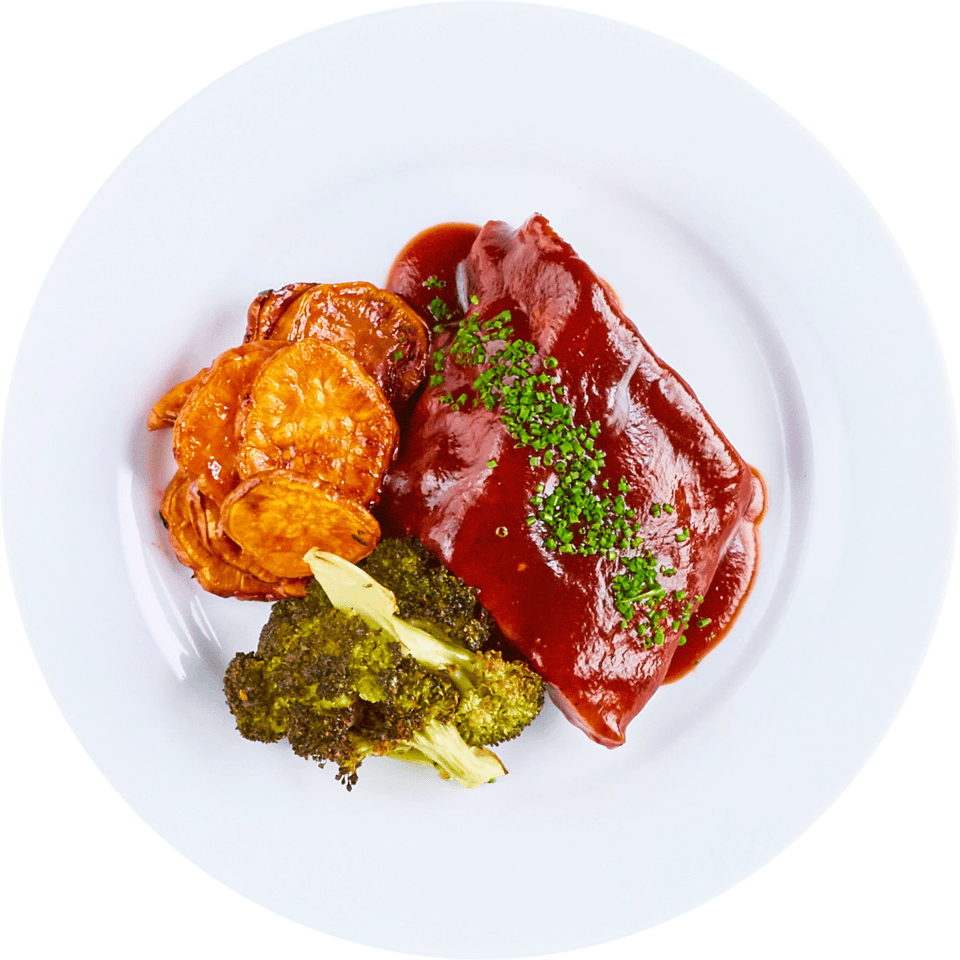 Amount per
serving
Daily value percentage
Calories
810 kcal
Total Fat
38 g
49%
Total Saturated Fat
12 g
58%
Unsaturated Fat
26 g
Cholesterol
120 mg
40%
Sodium
2770 mg
120%
Total Carbohydrate
75 g
27%
Fiber Total Dietary
6 g
21%
Sugars Total
50 g
Protein
38 g
76%
Vitamin C
67 mg
70%
Calcium Ca
186 mg
15%
Load More
By Innit Culinary Team