Fresh White Cauliflower 1 head
Garlic Cloves 6
Garden Fresh Thyme 2 sprigs
Fresh Cilantro Leaf 1/2 bunch
Ginger 1 Tbsp
Yellow Onion 1
Ghee 1/4 cup
Vegetable Stock 1 cup
Canned Red Tomato Paste with no salt 1/4 cup
Canned Chickpeas 2 cans
Heavy Cream 1/2 cup
Plain Yogurt 1/2 cup
Kosher Salt 1/2 tsp
Ground Cumin 1/2 tsp
Chili Flakes 1/2 tsp
Garam Masala 1 Tbsp
Ground Turmeric 1 tsp
Smooth Peanut Butter 1 Tbsp
Black Pepper 3/8 tsp
Prepare Protein

Prepare chickpeas, set aside.

2 cans , 15 oz each, drained and rinsed

Canned Chickpeas

Prepare Spice Mix

Mix spices in a small bowl, set aside.

1 Tbsp

Garam Masala

1/2 tsp

Ground Cumin

1 tsp

Ground Turmeric

1/2 tsp

Chili Flakes

1/4 tsp

Black Pepper

Prepare Vegetables

Prepare vegetables. Set aside.

1 , chopped

Yellow Onion

4 , minced

Garlic Cloves

1 Tbsp , grated

Ginger

1/2 bunch , chopped, leaves and tender stems

Fresh Cilantro Leaf

Create Curry

In the large pot, heat ghee over medium-high heat. Add vegetables, reserving cilantro, and cook for 5 minutes or until soft. Add spice mix and tomato paste. Cook until fragrant, for about 20 seconds, stirring occasionally. Add protein, yogurt, cream, broth, peanut butter and salt. Let simmer uncovered on medium-low heat for 25 minutes or until sauce has reduced slightly and protein is tender. Add more broth or water if curry seems too dry. Stir in cilantro and check seasoning.

2 Tbsp

Ghee

1/4 cup

Canned Red Tomato Paste with no salt

1/2 cup

Plain Yogurt

1/2 cup

Heavy Cream

1 cup

Vegetable Stock

1 Tbsp

Smooth Peanut Butter

1 pinch , or to taste

Kosher Salt

Cauliflower Rice Creation

Prepare ingredients. Add cauliflower to food processor. Blend until evenly chopped into small rice-like pieces. Heat pan on high heat for 2 minutes. Add ghee, cauliflower rice, salt, pepper, thyme & garlic. Stir & cook for 4 minutes. Remove garlic & thyme. Note: Alternatively, you can prepare the Cauliflower Rice using 16 ounces of store-purchased riced cauliflower. Skip the first two instructions and proceed to cooking.

1 head , chopped

Fresh White Cauliflower

2 , peeled

Garlic Cloves

2 Tbsp

Ghee

2 sprigs

Garden Fresh Thyme

1/2 tsp

Kosher Salt

1 pinch

Black Pepper

Plate & Serve Curry

Plate rice and serve with curry. Enjoy!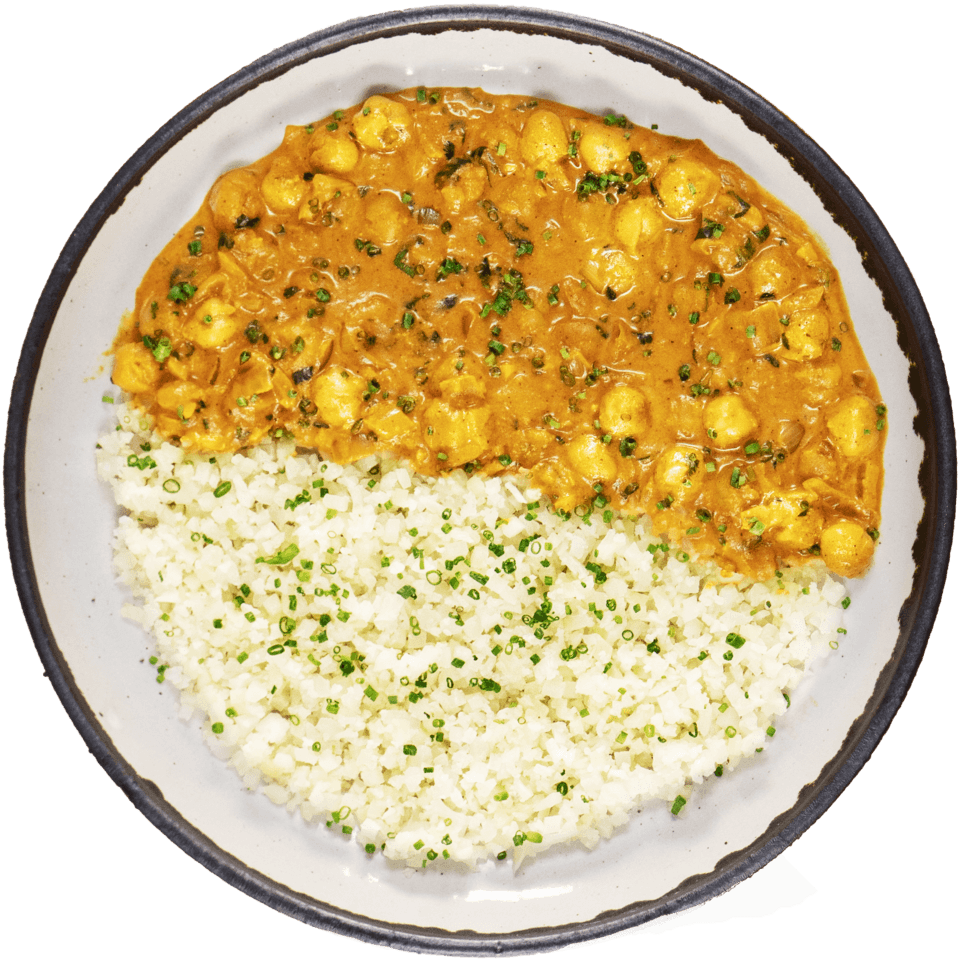 Amount per
serving
Daily value percentage
Calories
500 kcal
Total Fat
22 g
28%
Total Saturated Fat
7 g
37%
Unsaturated Fat
15 g
Low Cholesterol
25 mg
8%
Sodium
1230 mg
50%
Total Carbohydrate
52 g
19%
Excellent Source: Fiber
15 g
54%
Sugars Total
9 g
Excellent Source: Protein
20 g
40%
Excellent Source: Vitamin C
80 mg
90%
Good Source: Calcium
211 mg
15%
Load More
By Innit Culinary Team