Fresh Lime Leaves 2
Fresh Ginger 1/2 tsp
Red Bell Peppers 2
Fresh Lemongrass 1/2 stalk
Fresh Thyme 6 sprigs
Lime 1/2
Garlic Cloves 4
Green Bell Pepper 1
Yellow Onions 2
Coconut Milk 1/2 cup
Vegetable Stock 1/2 cup
Green Curry Paste 1 tsp
Extra Firm Tofu 2 packages
Kosher Salt 2 1/2 tsp
Red Quinoa 2/3 cup
Black Pepper 2 pinches
Water 1 1/3 cups
Olive Oil 3 Tbsp
Preheat

Preheat the oven to 425F. Line two sheet pans with foil.

Connect Oven

Cook Peppers & Onions

Toss peppers, onion, garlic & thyme together. Drizzle with olive oil & season. Bake for 13 minutes.

2, sliced Red Bell Peppers
1, sliced Yellow Onion
1 pinch Black Pepper
1 Tbsp Olive Oil
2, sliced Garlic Cloves
1 tsp Kosher Salt
4 sprigs Fresh Thyme

Flavor & Boil Quinoa

Combine all ingredients in large pot & bring to a boil.

1, smashed Garlic Clove
2 sprigs Fresh Thyme
1/2 tsp Kosher Salt
2/3 cup Red Quinoa
1 1/3 cups Water

Bake Tofu

Drain tofu and pat dry. Season. Bake for 22 - 28 minutes.

1 pinch Black Pepper
2 packages, halved Extra Firm Tofu
1 1/2 Tbsp Olive Oil
1 tsp Kosher Salt

Make Curry

Prepare ingredients. Saute ingredients in olive oil over medium heat; cook, stirring occasionally, until onions are soft, about 6 minutes.

1/2 Tbsp Olive Oil
1, smashed Garlic Clove
1, finely diced Yellow Onion
1, finely diced Green Bell Pepper

Cover & Simmer Quinoa

Reduce heat & simmer, covered, for 15 minutes. Remove garlic & thyme. Fluff with a fork.

Make Curry Cont.

Add remaining ingredients to peppers & onions. Bring to a simmer & cook until thickened, about 10 minutes.

1 tsp Green Curry Paste
1/2 cup Coconut Milk
1/2 cup Vegetable Stock
2 Fresh Lime Leaves
1/2, juiced Lime
1/2 stalk, split in 2 Fresh Lemongrass
1/2 tsp, grated Fresh Ginger

Season & Taste Curry

Discard lime leaves & lemongrass. Season to taste.

tsp, to taste Lime Juice
tsp, to taste Kosher Salt
tsp, to taste Black Pepper

Serve & Enjoy!

Pair with good music.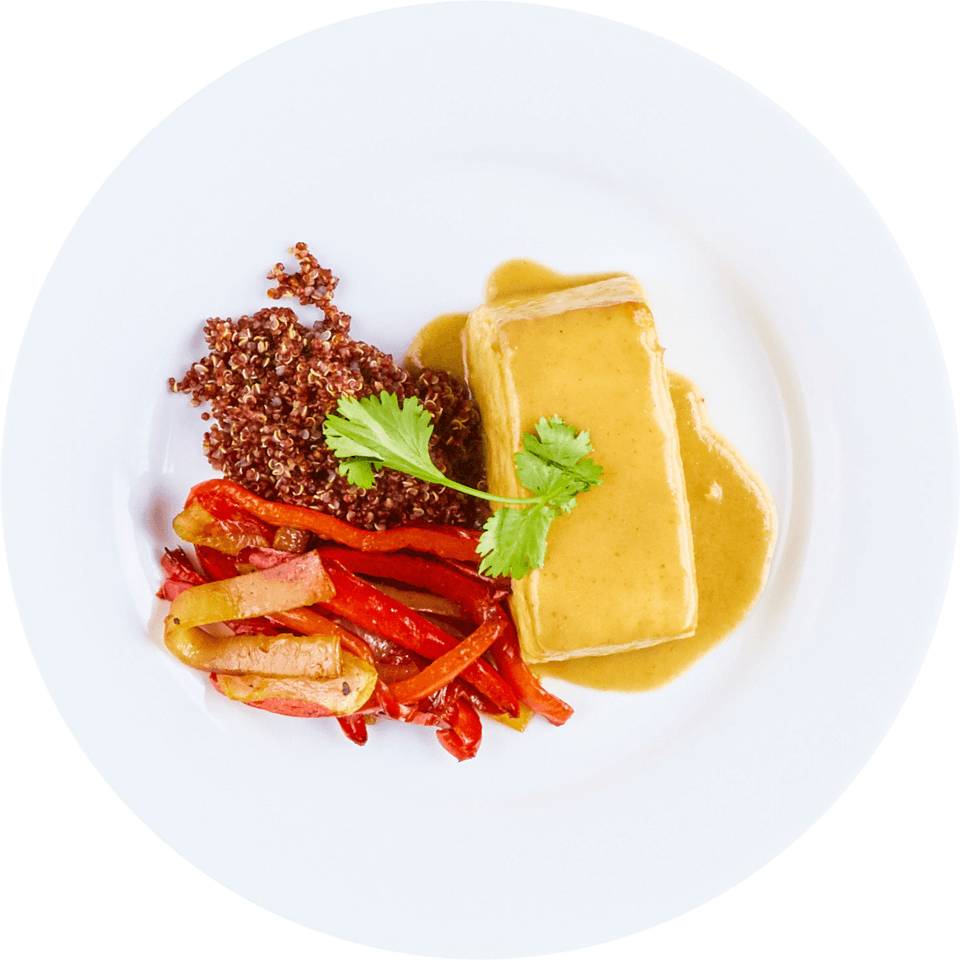 Amount per
serving
Daily value percentage
Calories
500 kcal
Total Fat
28 g
36%
Total Saturated Fat
9 g
46%
Unsaturated Fat
19 g
Low Cholesterol
0 mg
0%
Sodium
1520 mg
70%
Total Carbohydrate
38 g
14%
Fiber Total Dietary
8 g
29%
Sugars Total
8 g
Good Source: Protein
27 g
55%
Excellent Source: Vitamin C
130 mg
140%
Load More
By Innit Culinary Team