Baby Back Rib 1.1 kg
Hoisin Sauce 2 Tbsp
Salt 5 tsp
Black Pepper 2 pinches
Light Brown Sugar 2 Tbsp
Chives 1 Tbsp
Red Chilli 1/2
Ginger Root 1
Cauliflower 1 head
Fresh Thyme 1 sprig
Garlic Cloves 6
Plain Flour 30 g
Macaroni 120 g
Olive Oil 74 ml
Tomato Ketchup 2 Tbsp
Whole Milk 240 ml
Double Cream 240 ml
Unsalted Butter 2 Tbsp
Muenster Cheese 110 g
Rice Wine Vinegar 1 1/2 Tbsp
Low Sodium Soy Sauce 120 ml
Grapefruit Juice 120 ml
Flavour Creation

Prepare ingredients. Add all ingredients to a saucepan. Simmer over low heat until slightly thickened, for about 10 minutes. Strain.

120 ml Grapefruit Juice
1 1/2 Tbsp Rice Wine Vinegar
2 Garlic Cloves
2 Tbsp Light Brown Sugar
120 ml Low Sodium Soy Sauce
2 Tbsp Hoisin Sauce
1, grated Ginger Root
1 Tbsp Olive Oil
1/2 Red Chilli
2 Tbsp Tomato Ketchup

Cook Pasta

Cook the macaroni in boiling salted water until al dente. Drain pasta & set aside.

2 tsp Salt
120 g Macaroni
710 ml Water

Cook Ribs

Season ribs on all sides. Cook for 45 minutes, bone side up.

1/2 Tbsp Salt
2 Tbsp Olive Oil
1.1 kg Baby Back Rib
1 pinch Black Pepper

Start Mac & Cheese Sauce

In a medium saucepan, melt butter over medium heat; add in flour and whisk until mixture is light brown in color. Gradually add in milk & double cream and whisk until smooth. Add thyme & garlic. Stir constantly over low heat for 10 minutes, until thickened or coating the back of a spoon.

30 g Plain Flour
240 ml Whole Milk
1 sprig Fresh Thyme
2, smashed Garlic Cloves
2 Tbsp Unsalted Butter
240 ml Double Cream

Finish Mac & Cheese Sauce

Turn off heat, remove garlic & thyme. Add cheese, salt, pepper, & chives. Fold in cooked macaroni.

1 Tbsp, minced Chives
1 pinch Black Pepper
120 g Macaroni
1/2 tsp Salt
110 g, shredded Muenster Cheese

Cook Cauliflower

Toss or coat cauliflower & garlic with olive oil. Season with salt. Cook for 25 minutes.

1 head, small florets Cauliflower
2 Tbsp Olive Oil
1 tsp Salt
2, sliced Garlic Cloves

Flip Ribs

Remove baking tray from oven. Flip ribs bone-side down and continue to cook for 10 minutes. Remove from oven and let rest for 5 minutes.

Serve & Enjoy!

Pair with good music.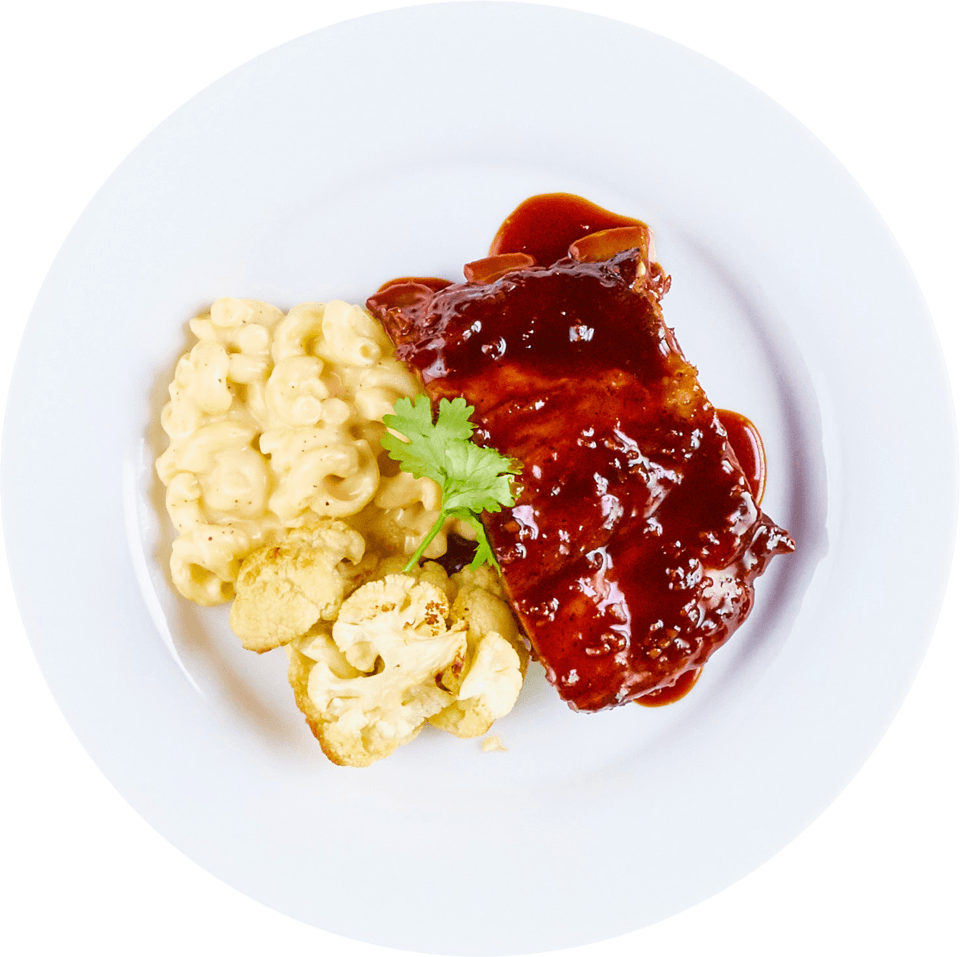 Amount per
serving
Daily value percentage
Calories
1100 kcal
Total Fat
70 g
90%
Total Saturated Fat
30 g
148%
Unsaturated Fat
40 g
Cholesterol
200 mg
67%
Sodium
4560 mg
200%
Total Carbohydrate
59 g
21%
Fiber Total Dietary
5 g
17%
Sugars Total
19 g
Protein
53 g
107%
Vitamin C
84 mg
90%
Calcium Ca
414 mg
30%
Load More
By Innit Culinary Team