Boneless Skinless Chicken Breasts 4
Miso Paste 1 Tbsp
Sesame Seed Oil 1/2 tsp
Honey 1/2 Tbsp
Dried Cranberries 3/4 cup
Lemon 1/2
Carrots 6
Fresh Ginger 1 piece
Fresh Chives 1 Tbsp
Oranges 1 1/2
Kale 2 bunches
Kosher Salt 3 1/4 tsp
Red Quinoa 2/3 cup
Black Pepper 4 pinches
Rice Wine Vinegar 1/4 cup
Water 1 1/3 cups
Olive Oil 1/2 cup
Cook Quinoa

Combine water, quinoa, and salt in a pot; bring to a boil. Reduce heat and simmer, covered, for 15 minutes. Transfer to a bowl. Add lemon juice and oil. Fluff with a fork.

1 1/3 cups Water
tsp, for water Kosher Salt
1/2, juiced Lemon
tsp, to coat Olive Oil
1 pinch Black Pepper
2/3 cup Red Quinoa

Preheat

Preheat the oven to 425F. Line sheet pan with foil.

Connect Oven

Prep Kale

Wash kale & dry.

2 bunches, destemmed + hand torn Kale

Simmer Carrots & Ginger

Prepare ingredients. Pre-heat pan. Add all ingredients; cover with water. Cook until soft, about 5 minutes.

2, sliced Carrots
1 piece, peeled + sliced Fresh Ginger
tsp, enough to cover Water
1 pinch Kosher Salt

Roast Carrots

Toss carrots with oil. Season. Bake for 15 minutes.

4, sliced into circles Carrots
1 Tbsp Olive Oil
1 tsp Kosher Salt
1 pinch Black Pepper

Blend Dressing Ingredients

Transfer carrot-ginger mixture to blender. Add orange juice/zest, miso, sesame oil, honey, rice vinegar. Blend until smooth. Let cool in fridge for 10 minutes. Fold in chives & season.

1/2, zested + juiced Orange
1 Tbsp Miso Paste
1/2 tsp Sesame Seed Oil
1/2 Tbsp, optional Honey
1/4 cup Rice Wine Vinegar
3/8 cup Olive Oil
1 Tbsp, finely chopped Fresh Chives
1 tsp Kosher Salt
1 pinch Black Pepper

Sear Chicken

Set pan over high heat for 2 minutes. Add olive oil & sliced chicken. Cook for 6 minutes until golden brown, seasoning halfway through.

4, sliced Boneless Skinless Chicken Breasts
2 Tbsp Olive Oil
1 tsp Kosher Salt
1 pinch Black Pepper

Flavor Cranberries

Combine ingredients. Toss to coat.

3/4 cup Dried Cranberries
1, zested + juiced Orange
1/2 tsp Kosher Salt

Serve and Enjoy!

Pair with your favorite music!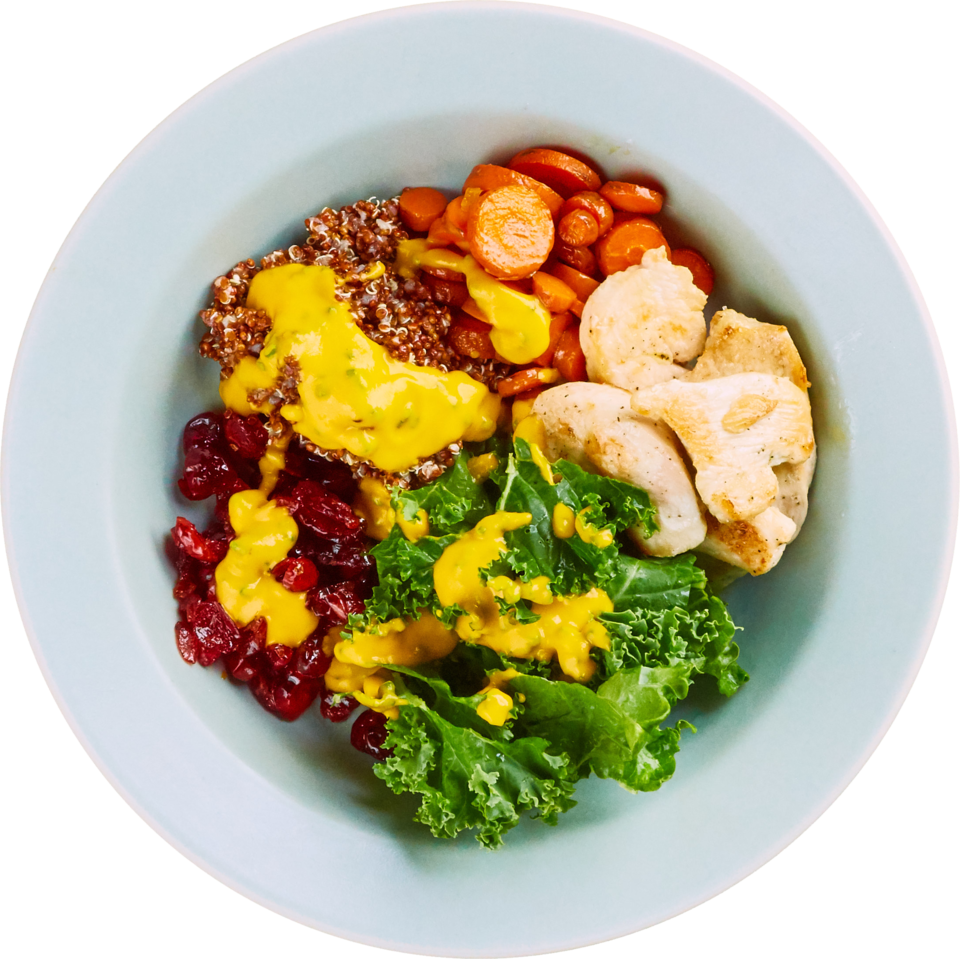 Amount per
serving
Daily value percentage
Calories
870 kcal
Total Fat
34 g
44%
Total Saturated Fat
6 g
28%
Unsaturated Fat
28 g
Cholesterol
170 mg
56%
Sodium
2310 mg
100%
Total Carbohydrate
68 g
25%
Good Source: Fiber
16 g
58%
Sugars Total
23 g
Excellent Source: Protein
69 g
138%
Excellent Source: Vitamin C
348 mg
390%
Calcium Ca
478 mg
35%
Load More
By Innit Culinary Team