Ground Beef 3/4 lb
Ground Pork 3/4 lb
Sliced White Bread 2
Whole Wheat Penne 2 cups
Lemon 1
Fresh Thyme 1 bunch
Button Mushrooms 1 lb
Garlic Cloves 6
White Onion 1/2
Italian Parsley 1/3 bunch
Dried Bay Leaves 2
Kosher Salt 1 1/2 Tbsp
Red Pepper Flakes 1 tsp
Whole Milk 1/2 cup
Grated Parmesan Cheese 1/4 cup
Egg 1
Black Pepper 1 pinch
Olive Oil 7/12 cup
Preheat

Preheat the oven to 425F. Line two sheet pans with foil.

Connect Oven

Saute Garlic & Onions

Prepare ingredients. Set a pan to medium high heat. Add ingredients & cook for 3 minutes. Remove from heat.

1 Tbsp Olive Oil
1/2, small dice White Onion
1, minced Garlic Clove

Soak Bread

Soak bread in milk for 5 minutes.

2, crusts removed Sliced White Bread
1/2 cup Whole Milk

Form & Bake Meatballs

Transfer soaked bread to clean bowl. Add cheese, parsley, garlic-onion mixture, & egg. Mix well! Add ground meat. Season & mix again. Form into meatballs. Arrange on sheet tray. Drizzle with oil. Bake 20 minutes.

1 Egg
1/4 cup Grated Parmesan Cheese
2 Tbsp, chopped Italian Parsley
3/4 lb Ground Beef
3/4 lb Ground Pork
1/2 tsp Kosher Salt
tsp, drizzle Olive Oil

Roast Mushrooms

Prepare ingredients. Drizzle mushrooms with olive oil & toss with remaining ingredients. Bake for 20 - 25 minutes.

1 lb, cleaned with wet paper towel, halved Button Mushrooms
2, minced Garlic Cloves
1/2 bunch Fresh Thyme
tsp, enough to coat Olive Oil
2 Dried Bay Leaves
1/2 tsp Kosher Salt
1 pinch Black Pepper

Boil Pasta

Bring a large pot of water to a boil; add salt. Cook penne until al dente, firm to bite but not soft.

1 Tbsp Kosher Salt
2 cups Whole Wheat Penne
tsp Water

Simmer Sauce

Prepare ingredients. Set a pan over medium low heat. Add oil, garlic, red pepper, & thyme; simmer for 3 - 4 minutes.

1/2 cup Olive Oil
1/2 bunch Fresh Thyme
1 tsp Red Pepper Flakes
3, sliced Garlic Cloves
1/4 bunch, chopped Italian Parsley

Season Sauce

Remove chili garlic oil from heat. Discard thyme. Add remaining ingredients.

1/2 tsp Kosher Salt
1, juiced + zested Lemon
1/4 bunch, chopped Italian Parsley

Serve and Enjoy!

Add meatball back into sauce. Pair with your favorite music!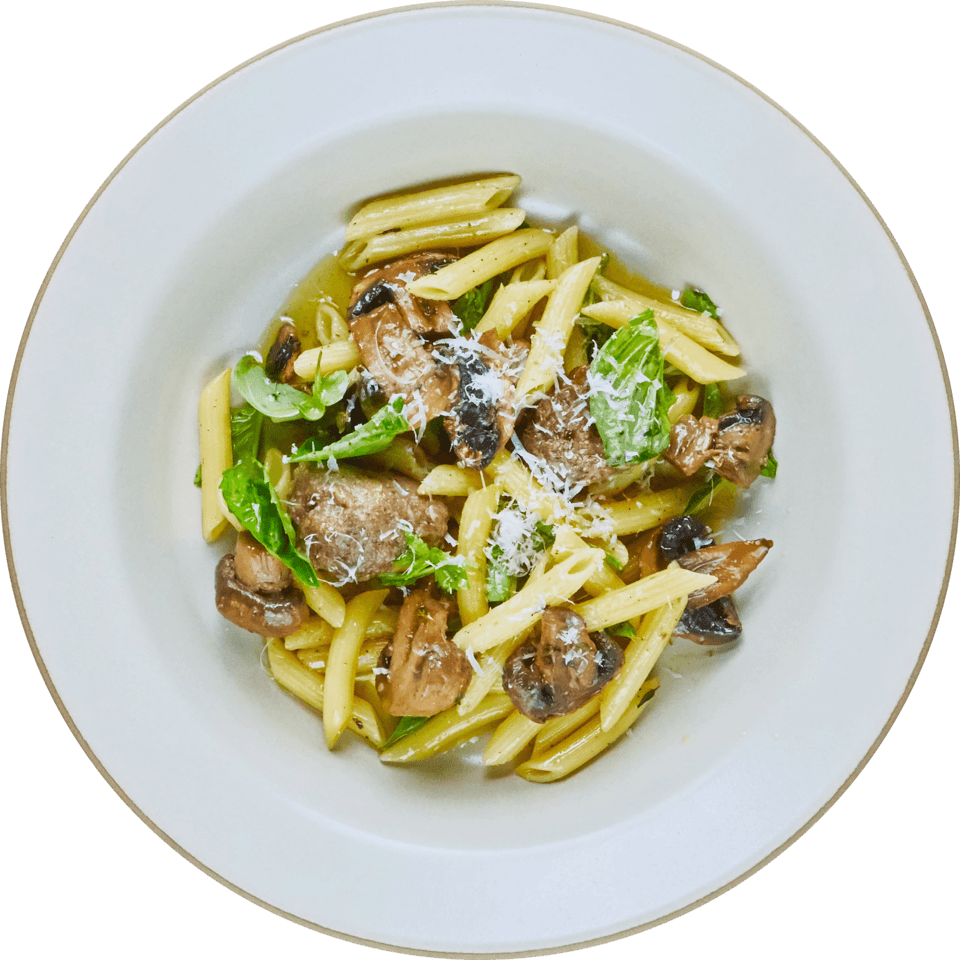 Amount per
serving
Daily value percentage
Calories
1030 kcal
Total Fat
64 g
82%
Total Saturated Fat
19 g
97%
Unsaturated Fat
45 g
Cholesterol
175 mg
58%
Sodium
2930 mg
130%
Total Carbohydrate
54 g
20%
Fiber Total Dietary
6 g
21%
Sugars Total
7 g
Excellent Source: Protein
45 g
90%
Good Source: Vitamin C
28 mg
30%
Calcium Ca
276 mg
20%
Load More
By Innit Culinary Team