Fresh Cilantro Leaf 3/4 bunch
Ginger 4 tsp
Fresh White Cauliflower 1/2
Garlic Cloves 4
Yellow Onion 1
Yukon Gold Potatoes 2
Kosher Salt 1/2 tsp
Chili Flakes 1/2 tsp
Garam Masala 1 Tbsp
Black Mustard Seeds 1 Tbsp
Ground Turmeric 2 tsp
Long Grain Brown Rice 1 cup
Black Pepper 1/4 tsp
Ghee 2 Tbsp
Vegetable Stock 3 cups
Canned Red Tomato Paste with no salt 1/4 cup
Canned Roma Tomato 1 can
Canned Chickpeas 2 cans
Make Cilantro Ginger Rice

Combine all ingredients in a large pot and bring to boil. Simmer, covered, for 40 minutes. Remove ginger. Fluff rice with a fork.

1 cup

Long Grain Brown Rice

1 tsp , peeled

Ginger

1/4 bunch , stems removed

Fresh Cilantro Leaf

2 cups

Water

1/2 tsp

Kosher Salt

Prepare Protein

Prepare chickpeas, set aside.

2 cans , 15 oz each, drained and rinsed

Canned Chickpeas

Prepare Spice Mix

Mix spices in a small bowl, set aside.

1 Tbsp

Garam Masala

1 Tbsp

Black Mustard Seeds

2 tsp

Ground Turmeric

1/2 tsp

Chili Flakes

1/4 tsp

Black Pepper

Prepare Vegetables

Prepare vegetables. Set aside.

1 , chopped

Yellow Onion

4 , minced

Garlic Cloves

1 Tbsp , grated

Ginger

2 , medium, cut into 0.5 inch dice

Yukon Gold Potatoes

1/2 , medium, cut into florets

Fresh White Cauliflower

1/2 bunch , chopped, leaves & tender stems

Fresh Cilantro Leaf

Create Curry

In the large pot, heat ghee over medium-high heat. Add vegetables, reserving cilantro, potatoes and cauliflower. Cook for 5 minutes or until onions are soft. Add spice mix and tomato paste. Cook until fragrant, for about 20 seconds, stirring occasionally. Add protein, potatoes, stock, tomatoes (crushing them into the pot by hand) and salt. Let simmer uncovered on medium-low heat for 10 minutes. Add cauliflower and more liquid if needed to cover vegetables. Let simmer for an additional 10 minutes or until potatoes are tender. Stir in cilantro and check seasoning.

2 Tbsp

Ghee

1/4 cup

Canned Red Tomato Paste with no salt

1 can , 15 oz can

Canned Roma Tomato

3 cups

Vegetable Stock

Plate & Serve Curry

Plate rice and serve with curry. Enjoy!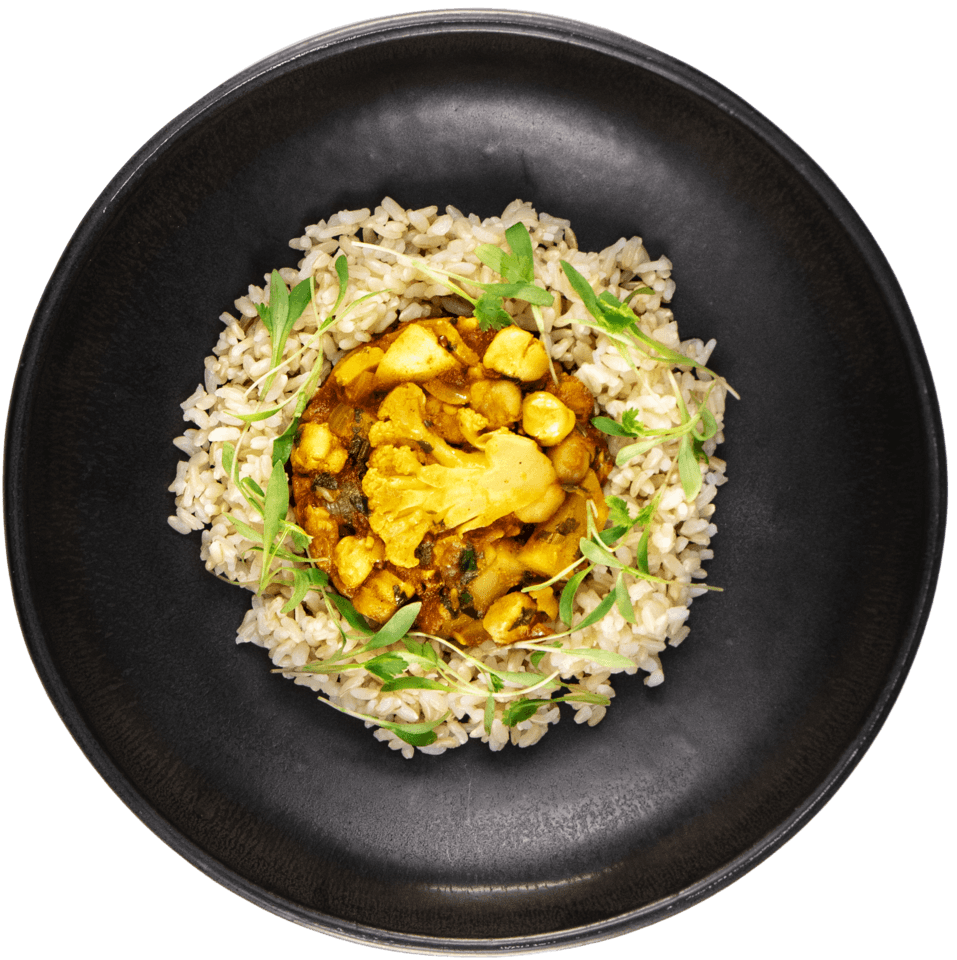 Amount per
serving
Daily value percentage
Calories
640 kcal
Low Fat
13 g
16%
Total Saturated Fat
2.5 g
13%
Unsaturated Fat
10 g
Low Cholesterol
5 mg
2%
Sodium
1290 mg
60%
Total Carbohydrate
106 g
38%
Excellent Source: Fiber
20 g
70%
Sugars Total
11 g
Excellent Source: Protein
26 g
51%
Excellent Source: Vitamin C
78 mg
90%
Load More
By Innit Culinary Team