Raw Bacon Slice 12 slices
Whole Turkey 12 lb
Maple Syrup 1 cup
Lemon 1
Garlic Head 1 head
Fresh Sage Leaves 1/2 bunch
Garden Fresh Thyme 1/2 bunch
Kosher Salt 3 Tbsp
Cotton Twine 1 package
Extra Virgin Olive Oil 2 Tbsp
Sherry Vinegar 1/2 cup
Black Pepper 1/2 Tbsp
Weave the Bacon

Arrange 5 strips of bacon in parallel vertical rows on parchment paper, the edges of the slices touching but not overlapping. Weave the bacon strips by laying one strip of bacon, horizontally, on top of the flat strips of bacon. Fold every other strip of bacon up. Add a second strip of bacon and unfold the folded pieces of bacon and repeat this process by folding down the pieces that were not previously folded. Place a strip of bacon, horizontally, on top of the folded pieces, and unfold the bacon. Continue this process with remaining bacon until you have a tight square of bacon lattice.

12 slices

Raw Bacon Slice

Season & Cook Turkey

Sprinkle a third of the salt into the cavity of the bird. Then stuff with garlic, lemon & herbs. Season the bird with the remaining salt and place the bacon lattice over the top. Truss the bird and drizzle with oil. Lightly cover the bird with foil and place in oven for 1 hour 40 minutes at 375F.

12 lb

Whole Turkey

3 Tbsp

Kosher Salt

1 , halved

Lemon

1 head , halved

Garlic Head

1/2 bunch

Fresh Sage Leaves

1/2 bunch

Garden Fresh Thyme

2 Tbsp

Extra Virgin Olive Oil

1 packet

Cotton Twine

Add Maple Pepper Mix

Combine ingredients & mix well. Remove bird from oven and heavily brush with maple mix. Cook for an additional 30 minutes and until a thermometer under the center of the breast reads 163F degrees. Remove from heat and let rest for at least 20 minutes. Why rest? To maximize juiciness!

1 cup

Maple Syrup

1/2 cup

Sherry Vinegar

1/2 Tbsp

Black Pepper

1 tsp

Kosher Salt

Slice

Remove twine from bird. Pull legs away from the center & cut through the skin between breast & drumstick. Bend legs & cut to detach leg. Slice along each side of the breastbone to remove breasts. Cut the wings off at the joint. To separate the thigh from the drumstick, cut between joint. Slice breasts crosswise, skin side up, & arrange on a platter with dark meat & wings.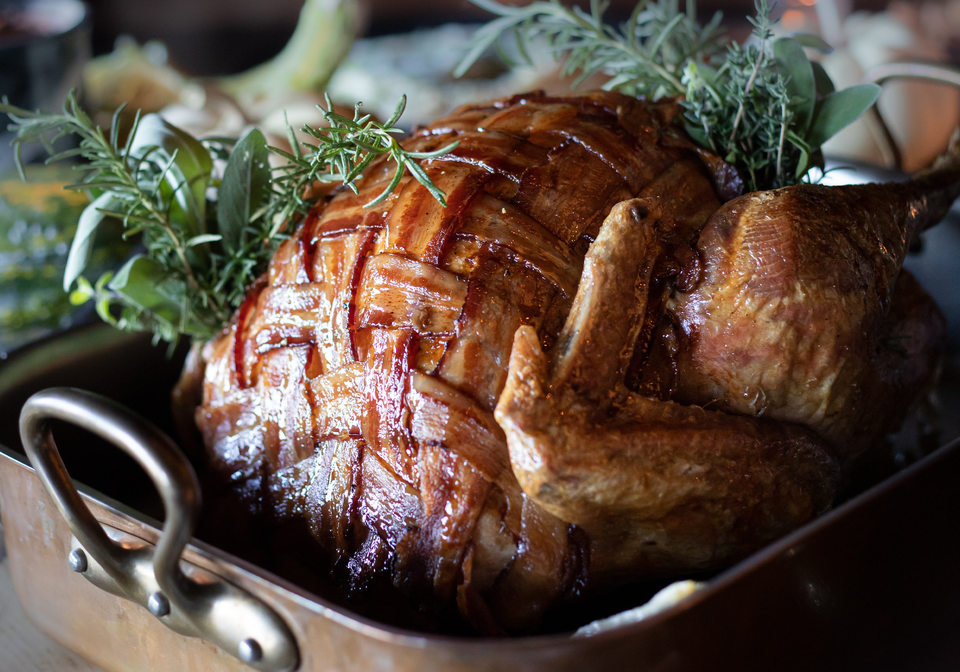 Amount per
serving
Daily value percentage
Calories
1340 kcal
Total Fat
35 g
45%
Total Saturated Fat
10 g
51%
Unsaturated Fat
25 g
Cholesterol
465 mg
155%
Sodium
4460 mg
190%
Total Carbohydrate
43 g
16%
Fiber Total Dietary
2 g
6%
Sugars Total
33 g
Excellent Source: Protein
147 g
294%
Vitamin C
10 mg
10%
Calcium Ca
194 mg
15%
Load More
By Innit Culinary Team