Boneless Skinless Chicken Breasts 4
Toasted Sesame Seed Oil 1 1/2 Tbsp
Chili Paste 1/2 tsp
Low Sodium Chicken Broth 1/2 cup
Soy Sauce 1 Tbsp
Granulated Sugar 1/4 cup
Orange 1
Ginger 1/2 tsp
Garlic Cloves 2
Garden Fresh Thyme 2 sprigs
Broccoli 2 heads
Kosher Salt 2 tsp
Crushed Red Peppers 1/2 tsp
Toasted Unsalted White Sesame Seeds 1 1/2 Tbsp
Cornstarch 2 Tbsp
Red Quinoa 2/3 cup
Olive Oil 1 Tbsp
Black Pepper 2 pinches
White Vinegar 1 Tbsp
Water 1 1/3 cups
Preheat

Preheat the oven to 425F. Line two sheet pans with foil.

Connect Oven

Bake Chicken Breast

Season chicken. Bake for 25 - 28 minutes, let rest for 5 minutes.

TIP: Why rest? Because proteins continue to cook once removed from the oven!

4 , 8oz breasts

Boneless Skinless Chicken Breasts

1 pinch

Black Pepper

1 Tbsp

Olive Oil

1 tsp

Kosher Salt

Flavor & Boil Quinoa

Combine all ingredients in large pot & bring to a boil.

1 , smashed

Garlic Clove

2 sprigs

Garden Fresh Thyme

1/2 tsp

Kosher Salt

2/3 cup

Red Quinoa

1 1/3 cups

Water

Bake Broccoli

Drizzle broccoli with olive oil. Season. Bake for 18 minutes.

2 heads , sliced

Broccoli

1/2 tsp

Crushed Red Peppers

to coat

Olive Oil

1/2 tsp

Kosher Salt

1 pinch

Black Pepper

Cover & Simmer Quinoa

Reduce heat & simmer, covered, for 15 minutes. Remove garlic & thyme. Fluff with a fork.

Prep Sauce

Heat sesame oil over low heat in a medium saucepan. Add ginger, garlic, & orange peel; cook, stirring until fragrant, about 2 - 3 minutes.

1/2 tsp , grated

Ginger

1 1/2 Tbsp

Toasted Sesame Seed Oil

1 , minced

Garlic Clove

2 slices , freshly peeled

Orange Peels

Sauce Creation

Add all ingredients to a medium bowl, stirring until corn starch dissolves. Gradually pour into pan with ginger & garlic. Bring to a boil for 30 seconds, whisking constantly. Keep warm over low heat until ready to serve.

1 Tbsp

White Vinegar

1/2 tsp

Chili Paste

1 1/2 Tbsp

Toasted Unsalted White Sesame Seeds

1 , juiced

Orange

1/4 cup

Granulated Sugar

2 Tbsp

Cornstarch

1 Tbsp

Soy Sauce

1/2 cup

Low Sodium Chicken Broth

Serve & Enjoy!

Pair with good music.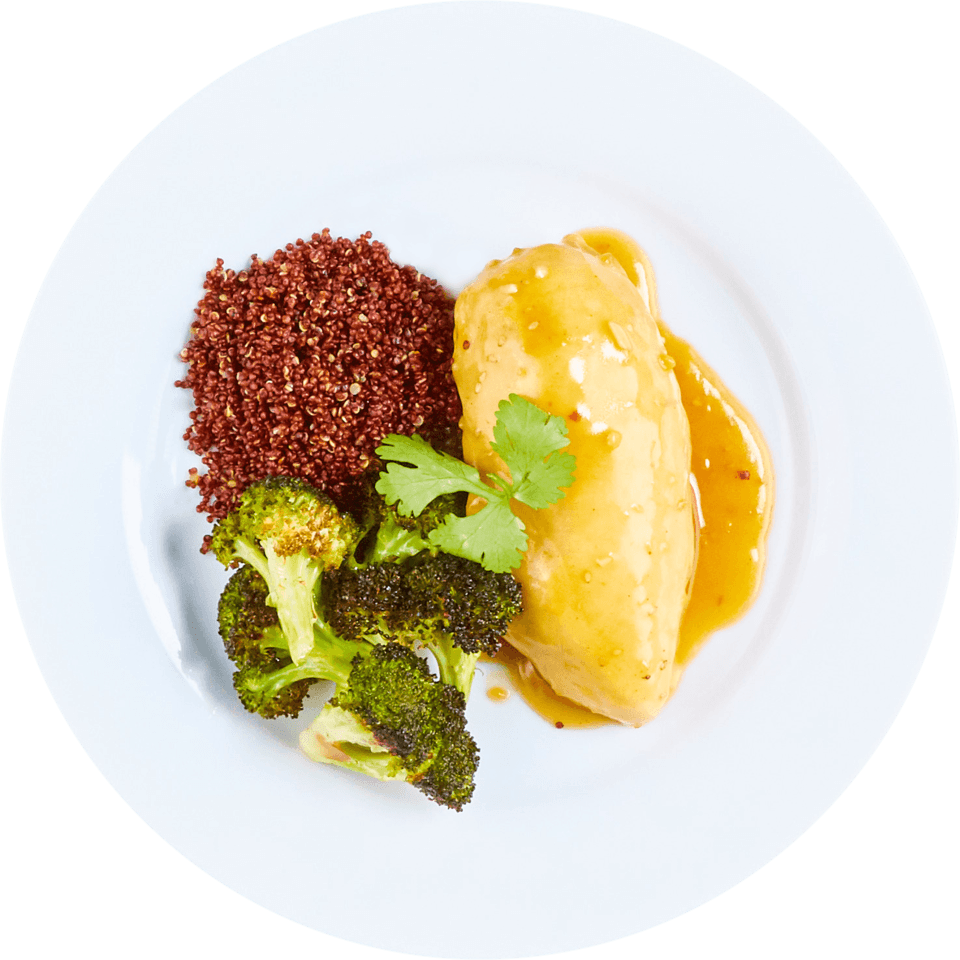 Amount per
serving
Daily value percentage
Calories
610 kcal
Low Fat
15 g
19%
Total Saturated Fat
3 g
15%
Unsaturated Fat
12 g
Cholesterol
170 mg
56%
Sodium
1650 mg
70%
Total Carbohydrate
49 g
18%
Fiber Total Dietary
7 g
25%
Sugars Total
18 g
Excellent Source: Protein
61 g
122%
Excellent Source: Vitamin C
136 mg
150%
Calcium Ca
115 mg
8%
Load More
By Innit Culinary Team