Leeks 3
Yellow Onion 1
Russet Potatoes 3
Garlic Cloves 10
Fresh Cilantro Leaf 1 Tbsp
Ginger 3/4 tsp
Lime 1/2
Kosher Salt 1 pinch
Ground Garlic 1/4 tsp
Unsweetened Smooth Peanut Butter 1/3 cup
Extra Virgin Olive Oil 2 Tbsp
Black Pepper 1 pinch
Vegetable Stock 8 cups
Canned Coconut Milk 2 Tbsp
Fish Sauce 3/4 tsp
Soy Sauce 1 Tbsp
Sriracha Sauce 3/4 tsp
Prepare Veggies

Prepare ingredients, setting aside 4 tbsp of the chopped leeks.

3 , white part only, chopped

Leeks

3 , peeled, diced

Russet Potatoes

1 , diced

Yellow Onion

10 , peeled

Garlic Cloves

Simmer Soup

In a medium to large pot, sauté vegetables in oil over medium heat for 5 minutes. Add vegetable stock. Simmer for 15 minutes or until the potatoes are fork tender.

2 Tbsp

Extra Virgin Olive Oil

8 cups

Vegetable Stock

Prepare Thai Peanut Sauce

Place all ingredients into a bowl. Whisk together well until smooth and combined.

1/2 , juiced

Lime

1/3 cup

Unsweetened Smooth Peanut Butter

2 Tbsp

Canned Coconut Milk

1 Tbsp

Water

1 Tbsp

Soy Sauce

3/4 tsp

Fish Sauce

3/4 tsp

Sriracha Sauce

1/4 tsp

Ground Garlic

3/4 tsp , grated

Ginger

1 Tbsp , stems removed, chopped

Fresh Cilantro Leaf

Purée

Pour soup into a blender, season with salt to taste and blend 2-3 minutes or until smooth. Work in batches if necessary. Check seasoning. Pour soup back into pot and let sit until ready to serve. Reheat if necessary. Note on blending hot liquids: 1. Fill the blender jar only half full. Filling the jar more than halfway can cause too much steam to build up and can blow the lid off the blender. 2. Place the blender lid securely on the blender. Remove center piece (feeder cap) of blender lid. 3. Cover the blender lid with a clean folded kitchen towel. The hot steam needs an escape route, this happens through the feeder cap and then out the edges of the towel. 4. Hold the lid on securely and start blending on lowest speed. Gradually increase speed. Following these instructions can help prevent severe burns.

Serve

Ladle soup into bowls and serve with topping. Garnish with reserved leek, freshly cracked black pepper & olive oil, if desired.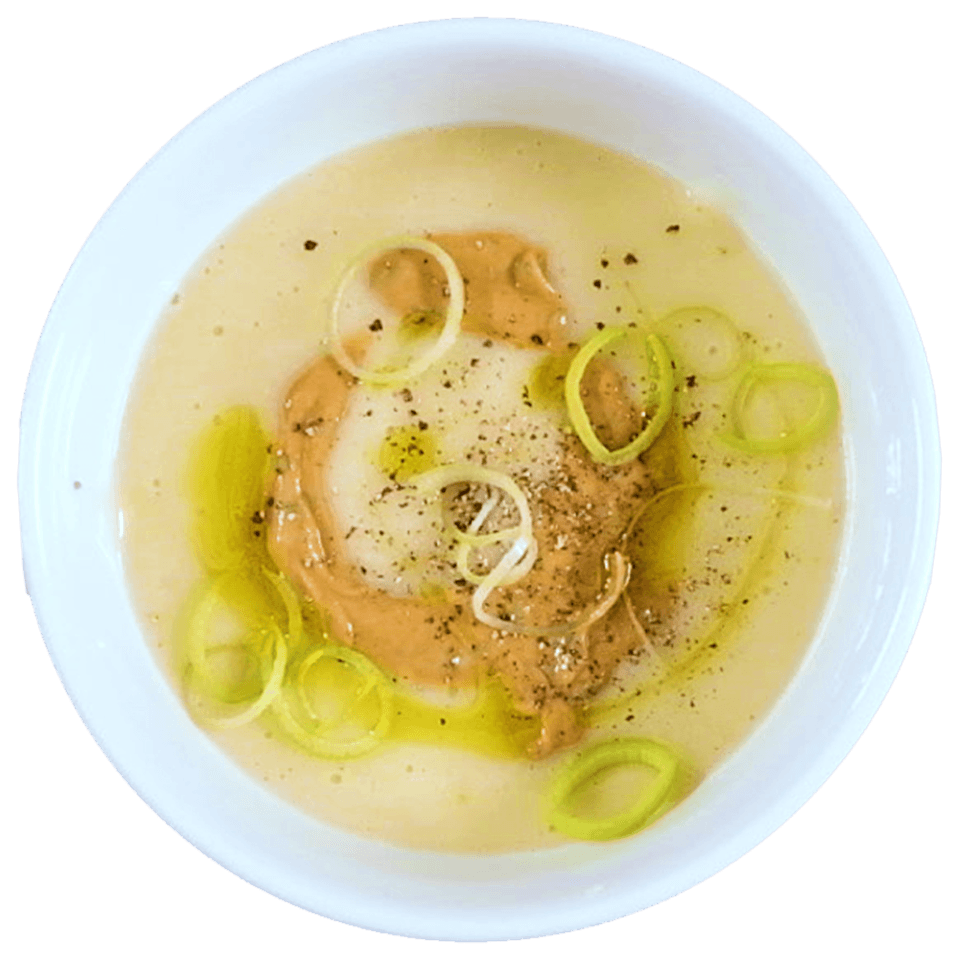 Amount per
serving
Daily value percentage
Calories
590 kcal
Total Fat
24 g
31%
Total Saturated Fat
6 g
31%
Unsaturated Fat
18 g
Low Cholesterol
15 mg
5%
Low Sodium
1160 mg
50%
Total Carbohydrate
73 g
26%
Fiber Total Dietary
7 g
24%
Sugars Total
19 g
Protein
23 g
46%
Vitamin C
36 mg
40%
Load More
By Innit Culinary Team