Boneless Skinless Chicken Breasts 4
Coconut Milk 1/2 cup
Vegetable Stock 1/2 cup
Green Curry Paste 1 tsp
Fresh Lime Leaves 2
Fresh Ginger 1/2 tsp
Fresh Lemongrass 1/2 stalk
Fresh Thyme 1/2 bunch
Lime 1/2
Garlic Cloves 3
Green Bell Pepper 1
Yellow Onion 1
Fresh Green Beans 1 lb
Kosher Salt 1 Tbsp
Long Grain Brown Rice 2/3 cup
Black Pepper 3 pinches
Water 1 1/3 cups
Olive Oil 2 1/2 Tbsp
Boil Water

Combine all ingredients in a large pot and bring to boil.

1/2 tsp Kosher Salt
1 1/3 cups Water
1 pinch Black Pepper
1/2 bunch Fresh Thyme
2, smashed Garlic Cloves

Cover & Simmer Rice

Add rice & reduce heat. Simmer, covered, for 40 minutes. Let rest for 10 minutes. Remove garlic & thyme. Fluff rice with a fork.

2/3 cup Long Grain Brown Rice

Preheat

Preheat the oven to 425F. Line two sheet pans with foil.

Connect Oven

Bake Chicken Breast

Season chicken. Bake for 22 - 28 minutes, let rest for 5 minutes.

TIP: Why rest? Because proteins continue to cook once removed from the oven!

4, 8oz breasts Boneless Skinless Chicken Breasts
1 pinch Black Pepper
1 Tbsp Olive Oil
1/2 Tbsp Kosher Salt

Make Curry

Prepare ingredients. Saute ingredients in olive oil over medium heat; cook, stirring occasionally, until onions are soft, about 6 minutes.

1/2 Tbsp Olive Oil
1, smashed Garlic Clove
1, finely diced Yellow Onion
1, finely diced Green Bell Pepper

Cook Green Beans

Drizzle green beans with olive oil. Season. Bake for 10 minutes.

1 pinch Black Pepper
1 tsp Kosher Salt
1 Tbsp Olive Oil
1 lb, trimmed Fresh Green Beans

Make Curry Cont.

Add remaining ingredients to peppers & onions. Bring to a simmer & cook until thickened, about 10 minutes.

1 tsp Green Curry Paste
1/2 cup Coconut Milk
1/2 cup Vegetable Stock
2 Fresh Lime Leaves
1/2, juiced Lime
1/2 stalk, split in 2 Fresh Lemongrass
1/2 tsp, grated Fresh Ginger

Season & Taste Curry

Discard lime leaves & lemongrass. Season to taste.

tsp, to taste Lime Juice
tsp, to taste Kosher Salt
tsp, to taste Black Pepper

Serve & Enjoy!

Pair with good music.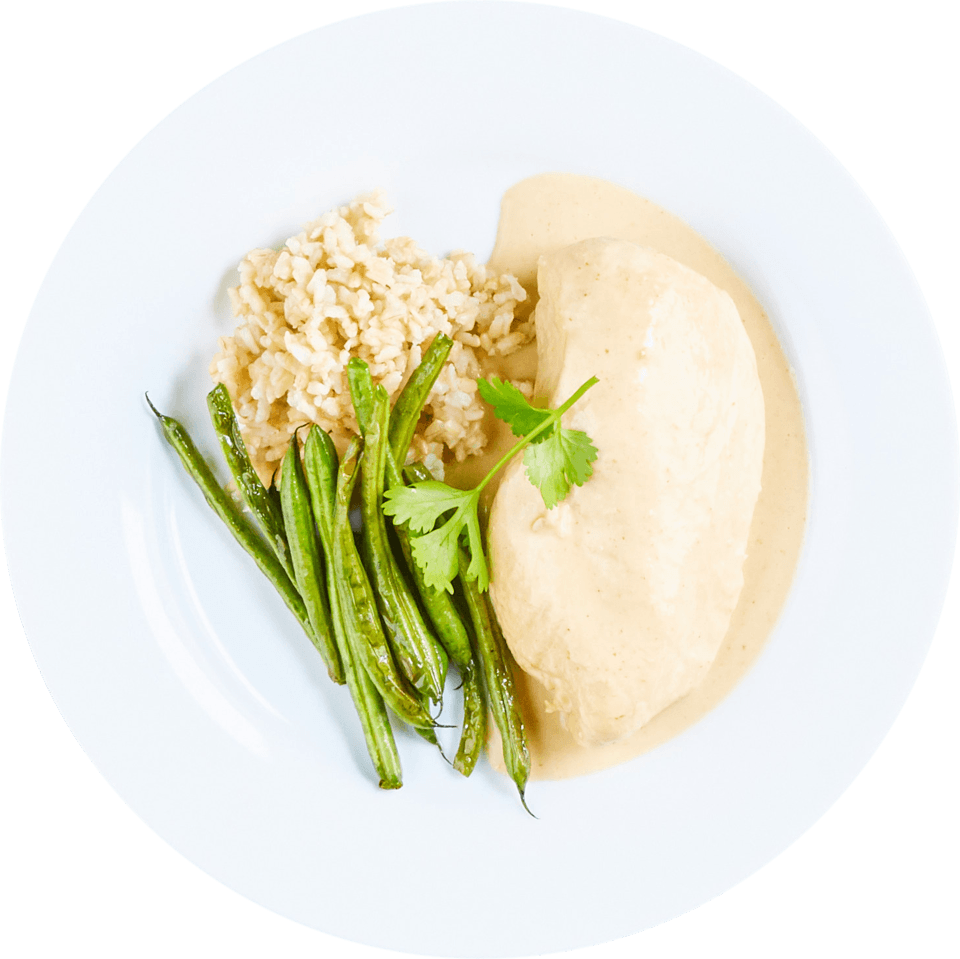 Amount per
serving
Daily value percentage
Calories
600 kcal
Total Fat
21 g
26%
Total Saturated Fat
9 g
43%
Unsaturated Fat
12 g
Cholesterol
170 mg
56%
Sodium
1910 mg
80%
Total Carbohydrate
41 g
15%
Fiber Total Dietary
6 g
22%
Sugars Total
6 g
Excellent Source: Protein
58 g
117%
Good Source: Vitamin C
50 mg
60%
Calcium Ca
99 mg
8%
Load More
By Innit Culinary Team