Bacon 5 slices
Beef Flank Steak 1 lb
Full Fat Mayonnaise 1/4 cup
Lemon 1/2
Fresh Chives 1 Tbsp
Italian Parsley 1 Tbsp
Avocados 2
Fresh Romaine Hearts 2
Kosher Salt 1 1/4 tsp
Garlic Powder 1/4 tsp
Buttermilk 2 Tbsp
Sour Cream 1/4 cup
Eggs 4
Black Pepper 2 pinches
Olive Oil 2 1/2 Tbsp
Preheat

Preheat the oven to 425F. Line sheet pan with foil.

Connect Oven

Whisk Together Dressing

Add all ingredients to a small bowl. Whisk to combine.

1 Tbsp, finely chopped Italian Parsley
1 Tbsp, finely chopped Fresh Chives
1/4 cup Full Fat Mayonnaise
1/4 cup Sour Cream
2 Tbsp Buttermilk
1/2, zested + juiced Lemon
1/2 Tbsp Olive Oil
1/4 tsp Kosher Salt
1 pinch Black Pepper
1/4 tsp Garlic Powder

Bake Bacon

Arrange bacon slices on sheet tray. Bake for 15 minutes until bacon is golden brown & crispy. Roughly chop.

Soft Boil Eggs

Bring eggs and water to a boil over high heat. Reduce heat; simmer for 4 minutes.

Prep Romaine

Discard root end. Wash leaves & dry.

2, chopped Fresh Romaine Hearts

Sear Steak

Set pan to high heat for 2 minutes. Add oil & steak; cook for 4 minutes or until golden brown, season halfway through. Remove from heat.

1 lb, sliced Beef Flank Steak
2 Tbsp Olive Oil
1 tsp Kosher Salt
1 pinch Black Pepper

Halve Avocados

Discard pits.

Ice & Peel Eggs

Add ice and water to small bowl. Remove eggs from heat; add to prepared ice bath. Cool for 90 seconds. Carefully, peel eggs; cut in half. Season.

4 Eggs
2 cups Ice
2 cups, cold Water
1 tsp Kosher Salt
1/2 tsp Black Pepper

Serve and Enjoy!

Assemble salad and drizzle with dressing.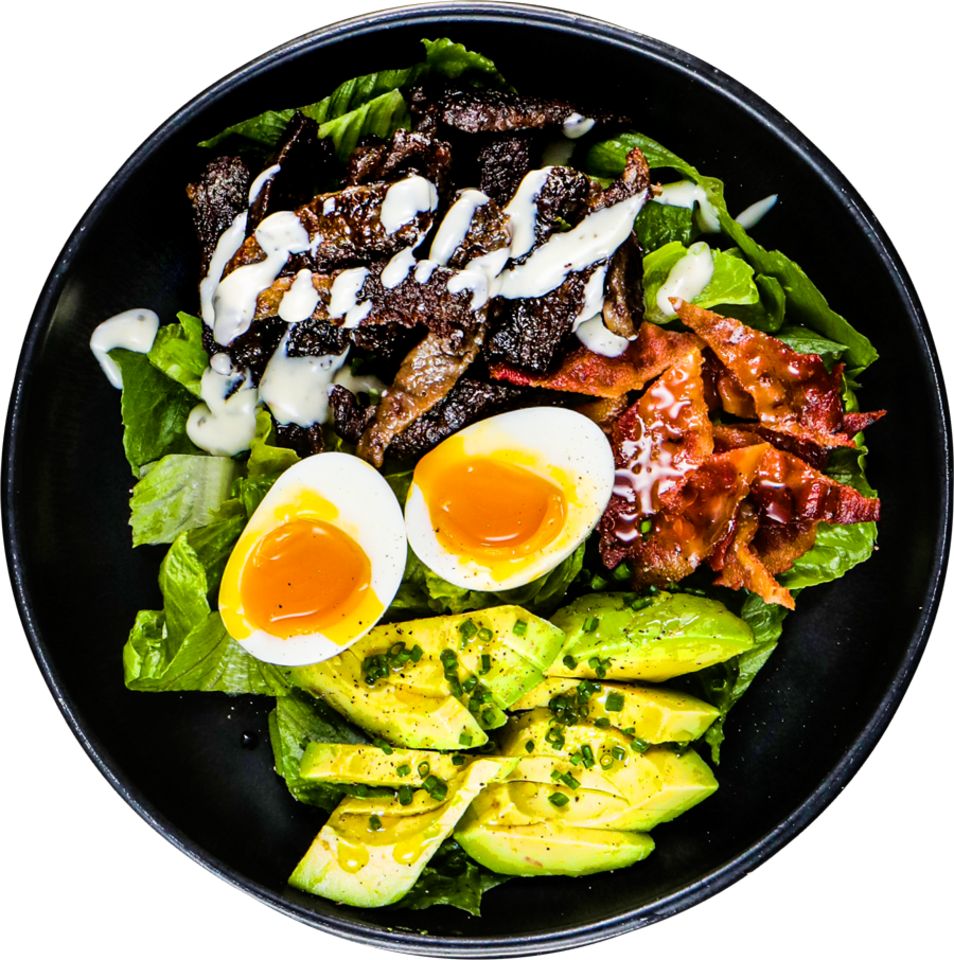 Amount per
serving
Daily value percentage
Calories
740 kcal
Total Fat
44 g
56%
Total Saturated Fat
11 g
55%
Unsaturated Fat
33 g
Cholesterol
275 mg
91%
Sodium
1130 mg
50%
Total Carbohydrate
15 g
5%
Good Source: Fiber
9 g
33%
Sugars Total
4 g
Excellent Source: Protein
39 g
78%
Good Source: Vitamin C
20 mg
25%
Calcium Ca
146 mg
10%
Good Source: Iron
5 mg
30%
Load More
By Innit Culinary Team