Zucchini 1 cup
Carrots 1 cup
Fresh Chives 1/2 bunch
English Cucumber 1/2
Fresh Dill 1/4 bunch
Lime 1
Mint 1/4 bunch
Kosher Salt 2 tsp
Buttermilk 1 1/3 cups
Eggs 4
Plain Greek Yogurt 1/2 cup
Olive Oil 4 tsp
Vegetable Oil 1/3 cup
Black Pepper 1/2 tsp
Gluten Free Flour 1 1/2 cups
Xanthan Gum 1 tsp
Baking Powder 1 Tbsp
Granulated Sugar 2 tsp
Prep Batter

Add all dry ingredients to a medium bowl, mix to combine. Add eggs to a large bowl, followed by buttermilk, mix well to combine. Add the dry ingredients into the wet ingredients, mix well to combine. Add vegetable oil in a slow and steady stream while simultaneously whisking until combined.

1 1/2 cups

Gluten Free Flour

1 tsp

Xanthan Gum

1 tsp

Kosher Salt

2 tsp

Granulated Sugar

1 1/3 cups

Buttermilk

4

Eggs

1/4 cup

Vegetable Oil

1 Tbsp

Baking Powder

Prep Topping

Prepare ingredients. In a medium bowl combine all in ingredients and fold well until evenly mixed.

1/2 , diced

English Cucumber

1/2 bunch , minced

Fresh Chives

1/4 bunch , chopped

Fresh Dill

1/4 bunch , leaves picked, chopped

Mint

1/2 cup

Plain Greek Yogurt

1 Tbsp

Olive Oil

1 , juiced

Lime

1 tsp

Kosher Salt

1/2 tsp

Black Pepper

Prep Smash-In

Prepare ingredients, remove excess moisture from vegetables with a paper towel. Mix well into batter.

1 cup , grated

Zucchini

1 cup , grated

Carrots

1 tsp

Kosher Salt

1 tsp

Olive Oil

Cook Pancake

Heat a large nonstick pan or griddle over medium-low heat. Lightly oil the pan, and ladle 1/3 cup of batter into the pan. Cook until bubbles appear on top, then flip and cook for 1 minute or until cooked through.

Serve and Enjoy!

Garnish and enjoy!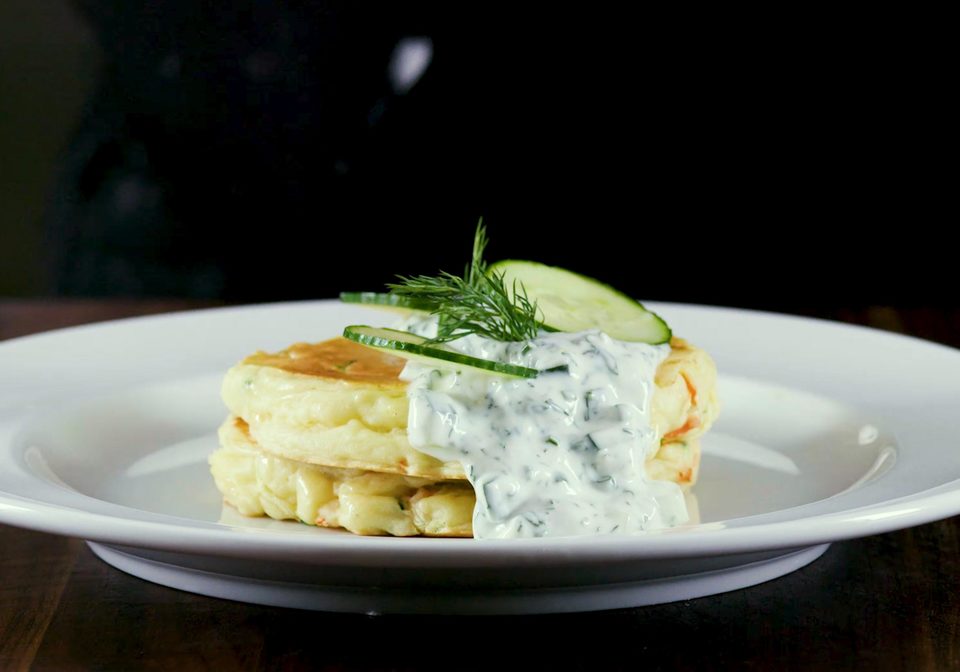 Amount per
serving
Daily value percentage
Calories
560 kcal
Total Fat
29 g
37%
Total Saturated Fat
7 g
36%
Unsaturated Fat
22 g
Cholesterol
200 mg
66%
Sodium
1730 mg
80%
Total Carbohydrate
54 g
19%
Good Source: Fiber
5 g
18%
Sugars Total
10 g
Excellent Source: Protein
18 g
35%
Good Source: Vitamin C
18 mg
20%
Good Source: Calcium
410 mg
30%
Good Source: Iron
4.5 mg
25%
Load More
By Innit Culinary Team