Oranges 2
Fresh Chives 2 Tbsp
Fresh Cilantro Leaf 2 Tbsp
English Cucumber 1/2
Lime 1/2
Green Jalapeño Pepper 1
Red Tomato 1/2
Honey 2 Tbsp
Coconut Oil 1/4 cup
Canned Pumpkin Mix 1/2 cup
Eggs 4
Kosher Salt 1/2 Tbsp
Ground Nutmeg 1/2 tsp
Ground Cinnamon 1/2 tsp
Vanilla Extract 1/2 tsp
Almond Flour 1 1/2 cups
Baking Powder 1 Tbsp
Coconut Flour 2 1/2 Tbsp
Canola Oil 1 Tbsp
Extra Virgin Olive Oil 1 Tbsp
Black Pepper 1/4 tsp
Prep Batter

Whisk eggs, water, and honey in a large bowl until combined. Add all dry ingredients to the bowl, whisk to combine. Add melted coconut oil in a slow and steady stream while simultaneously whisking until combined.

4

Eggs

1/2 cup

Water

2 Tbsp

Honey

1/4 cup , melted

Coconut Oil

1 1/2 cups

Almond Flour

1 Tbsp

Baking Powder

1 tsp

Kosher Salt

2 1/2 Tbsp

Coconut Flour

Prep Topping

Prepare vegetables and herbs, set aside. Zest and peel orange, carefully removing any white pith. Reserve zest and discarding peel. Slice orange into segments by cutting between the membranes. Combine all prepared vegetables, herbs, and orange segments and zest in a large bowl. Season with pepper and olive oil, mix to combine. Season with salt and lime juice to taste, mix to combine.

1/2 , diced

English Cucumber

1/2 , large, diced

Red Tomato

1 , seeds removed, diced

Green Jalapeño Pepper

2 Tbsp , chopped

Fresh Chives

2 Tbsp , chopped

Fresh Cilantro Leaf

1/2 , juiced

Lime

1 , zested, segmented

Orange

1/2 tsp

Kosher Salt

1/4 tsp

Black Pepper

1 Tbsp

Extra Virgin Olive Oil

Prep Smash-In

Add pumpkin, vanilla, cinnamon, and nutmeg to the batter. Zest in orange and mix gently to combine.

1/2 cup

Canned Pumpkin Mix

1/2 tsp

Ground Cinnamon

1/2 tsp

Ground Nutmeg

1/2 tsp

Vanilla Extract

1 , zested

Orange

Cook Pancake

Cook 1/2 cup scoop of batter in skillet until bubbles appear on top. Then, flip and cook 1 more minute on the other side.

Serve and Enjoy!

Garnish and enjoy!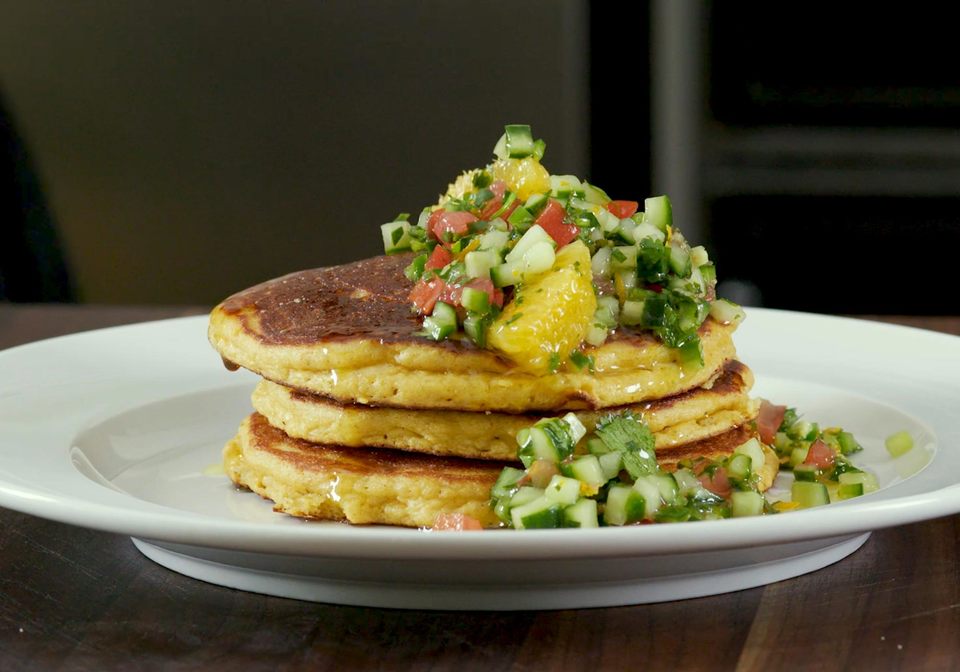 Amount per
serving
Daily value percentage
Calories
610 kcal
Total Fat
44 g
56%
Total Saturated Fat
15 g
76%
Unsaturated Fat
29 g
Cholesterol
185 mg
62%
Sodium
1310 mg
60%
Total Carbohydrate
37 g
14%
Good Source: Fiber
9 g
32%
Sugars Total
19 g
Good Source: Protein
17 g
34%
Excellent Source: Vitamin C
54 mg
60%
Good Source: Calcium
399 mg
30%
Load More
By Innit Culinary Team