Pork Back Rib 2 1/2 lb
Rice Wine Vinegar 1 1/2 Tbsp
Hoisin Sauce 2 Tbsp
Tomato Ketchup 2 Tbsp
Low Sodium Soy Sauce 1/2 cup
Light Brown Sugar 2 Tbsp
Olive Oil 1/3 cup
Fresh Ginger 1
Fresh Thyme 1 sprig
Red Chili 1/2
Fresh Chives 1 Tbsp
Cauliflower 1 head
Garlic Cloves 6
All Purpose Flour 1/4 cup
Macaroni 1 cup
Grapefruit Juice 1/2 cup
Unsalted Butter 2 Tbsp
Whole Milk 1 cup
Muenster Cheese 1 cup
Heavy Cream 1 cup
Kosher Salt 5 tsp
Black Pepper 2 pinches
Flavor Creation

Prepare ingredients. Add all ingredients to a saucepan. Simmer over low heat until slightly thickened, about 10 minutes. Strain.

1/2 cup Grapefruit Juice
1 1/2 Tbsp Rice Wine Vinegar
2 Garlic Cloves
2 Tbsp Light Brown Sugar
1/2 cup Low Sodium Soy Sauce
2 Tbsp Hoisin Sauce
1, grated Fresh Ginger
1 Tbsp Olive Oil
1/2 Red Chili
2 Tbsp Tomato Ketchup

Preheat

Preheat the oven to 425F. Line two sheet pans with foil.

Connect Oven

Cook Pasta

Cook the macaroni in boiling salted water until al dente. Drain pasta & set aside.

2 tsp Kosher Salt
1 cup Macaroni
3 cups Water

Bake Ribs

Season ribs on all sides. Bake for 45 minutes, bone side up.

1/2 Tbsp Kosher Salt
2 Tbsp Olive Oil
2 1/2 lb Pork Back Rib
1 pinch Black Pepper

Start Mac & Cheese Sauce

In a medium saucepan, melt butter over medium heat; add in flour & whisk until combined. Gradually add in milk & heavy cream & whisk until smooth. Add thyme & garlic. Stir constantly over low heat for 10 minutes, until thickened or coats the back of a spoon.

1/4 cup All Purpose Flour
1 cup Whole Milk
1 sprig Fresh Thyme
2, smashed Garlic Cloves
2 Tbsp Unsalted Butter
1 cup Heavy Cream

Finish Mac & Cheese Sauce

Turn off heat, remove garlic & thyme. Add cheese, salt, pepper, & chives. Fold in cooked macaroni.

1 Tbsp, minced Fresh Chives
1 pinch Black Pepper
1 cup Macaroni
1/2 tsp Kosher Salt
1 cup, shredded Muenster Cheese

Cook Cauliflower

Toss or coat cauliflower & garlic with olive oil. Season with salt. Bake for 25 minutes.

1 head, small florets Cauliflower
2 Tbsp Olive Oil
1 tsp Kosher Salt
2, sliced Garlic Cloves

Flip Ribs

Remove sheet pan from oven. Flip ribs bone-side down and continue to cook for 10 minutes. Remove from oven and let rest for 5 minutes.

Serve & Enjoy!

Pair with good music.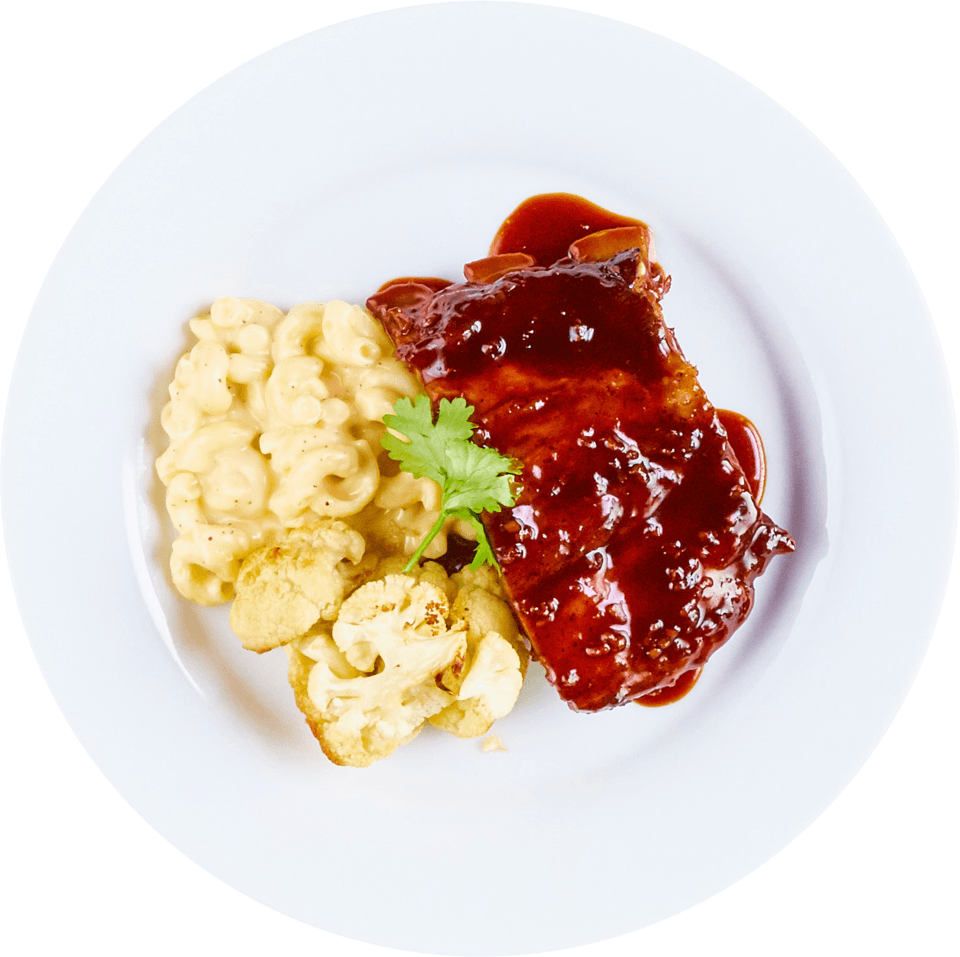 Amount per
serving
Daily value percentage
Calories
1110 kcal
Total Fat
70.0 g
90%
Total Saturated Fat
30.0 g
150%
Unsaturated Fat
40 g
Cholesterol
205 mg
69%
Sodium
4550 mg
200%
Total Carbohydrate
59 g
21%
Fiber Total Dietary
5 g
17%
Sugars Total
19 g
Excellent Source: Protein
54 g
109%
Excellent Source: Vitamin C
84 mg
90%
Calcium Ca
420 mg
30%
Load More
By Innit Culinary Team