Pork Back Ribs 2 1/2 lb
Long Grain Brown Rice 2/3 cup
Black Pepper 3 pinches
Rice Wine Vinegar 1 1/2 Tbsp
Water 1 1/3 cups
Olive Oil 1/4 cup
Grapefruit Juice 1/2 cup
Fresh Ginger 1
Fresh Thyme 1/2 bunch
Red Chili 1/2
Garlic Cloves 4
Fresh Green Beans 1 lb
Low Sodium Soy Sauce 1/2 cup
Tomato Ketchup 2 Tbsp
Hoisin Sauce 2 Tbsp
Kosher Salt 1 Tbsp
Light Brown Sugar 2 Tbsp
Preheat

Preheat the oven to 425F. Line two sheet pans with foil.

Connect Oven

Boil Water

Combine all ingredients in a large pot and bring to boil.

1/2 tsp Kosher Salt
1 1/3 cups Water
1 pinch Black Pepper
1/2 bunch Fresh Thyme
2, smashed Garlic Cloves

Bake Ribs

Season ribs on all sides. Bake for 45 minutes, bone side up.

1/2 Tbsp Kosher Salt
2 Tbsp Olive Oil
2 1/2 lb Pork Back Ribs
1 pinch Black Pepper

Cover & Simmer Rice

Add rice & reduce heat. Simmer, covered, for 40 minutes. Let rest for 10 minutes. Remove garlic & thyme. Fluff rice with a fork.

2/3 cup Long Grain Brown Rice

Flavor Creation

Prepare ingredients. Add all ingredients to a saucepan. Simmer over low heat until slightly thickened, about 10 minutes. Strain.

1/2 cup Grapefruit Juice
1 1/2 Tbsp Rice Wine Vinegar
2 Garlic Cloves
2 Tbsp Light Brown Sugar
1/2 cup Low Sodium Soy Sauce
2 Tbsp Hoisin Sauce
1, grated Fresh Ginger
1 Tbsp Olive Oil
1/2 Red Chili
2 Tbsp Tomato Ketchup

Flip Ribs

Remove sheet pan from oven. Flip ribs bone-side down and continue to cook for 10 minutes. Remove from oven and let rest for 5 minutes.

Cook Green Beans

Drizzle green beans with olive oil. Season. Bake for 10 minutes.

1 pinch Black Pepper
1 tsp Kosher Salt
1 Tbsp Olive Oil
1 lb, trimmed Fresh Green Beans

Serve & Enjoy!

Pair with good music.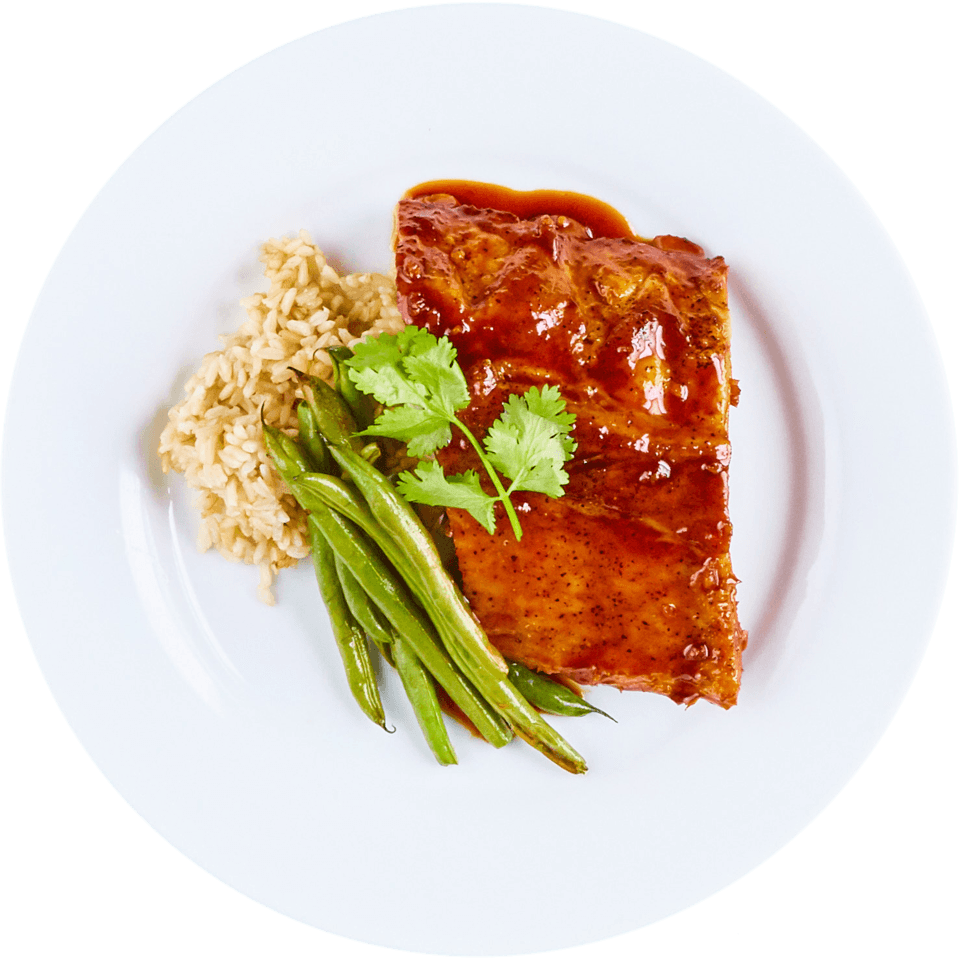 Amount per
serving
Daily value percentage
Calories
750 kcal
Total Fat
43 g
55%
Total Saturated Fat
13 g
63%
Unsaturated Fat
30 g
Cholesterol
125 mg
41%
Sodium
3140 mg
140%
Total Carbohydrate
50 g
18%
Fiber Total Dietary
5 g
17%
Sugars Total
14 g
Excellent Source: Protein
42 g
83%
Good Source: Vitamin C
28 mg
30%
Calcium Ca
134 mg
10%
Load More
By Innit Culinary Team